My love of all things Luis Polonia is
no secret
. In fact, his 1991 Upper Deck card that was later signed by him in person, is one of
my favoirte cards
in my entire collection. So while I've been obsessed with finding new products and new Halos for 2009, I still keep coming back to the Pursuit of Polonia. Over the last couple of weeks I've acquired or found a few more Polonia beauties. Here they are, in all their glory, chronologically.
1991 Topps
'91 Topps got a lot of attention for the photography and an attempt at competing with Upper Deck, but unfortunately Luis did not get the super photo treatment. Still I like the card's color combos a team script at the bottom.
1992 Topps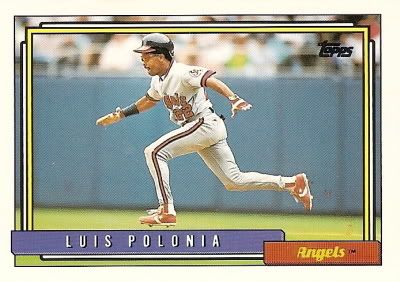 Definite photo improvement here. Luis on the run at Yankee stadium, the moment befor he propels himself on the slide into second. Always nice to have a player in midair on card.
1993 Upper Deck
The front is cool, with Luis dropping down the drag bunt towards thrid, added bonus for finally being in a home uniform. I much prefer my Halos in the home whites on my cards. The real fun here though is on the back.
It's batting practice, Luis is wearing the flapless helmet, he's got the Oakley blue shades, and of course he's running the bases with bat in hand. Awesome!
1993 Donruss Diamond King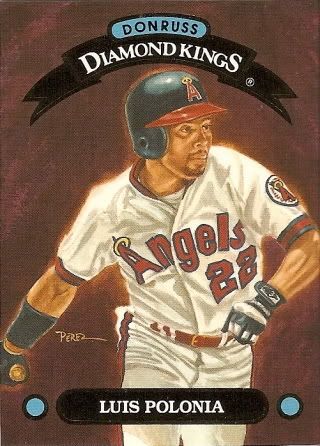 That's right, Diamond King. The cynic would say, "Damn the Angels really sucked in 1992", the optimist prefers to say, "Holy crap! Best. Diamond King. Ever.".
1993 Mother's Cookies
Gotta love the Mother's Cookies cards that you'd pick up at the stadium on "Baseball Card Day". To show the extent of my Polonia sickness even back in '93, I have multiple Polonias from this set, yet no doubles of any other player. I can remember convincing my parents to stay for the entire game so I could search for extra packs that people left behind after the game. A good look at the old enclosed Big A back in 90's.
There you have it, more Polonia Perfection.
Go Halos!