Pretty sweet right? I know you're already wondering what it takes to become the world's preeminent Ronny Paulino Super Collector. Well here are exhibits A and B: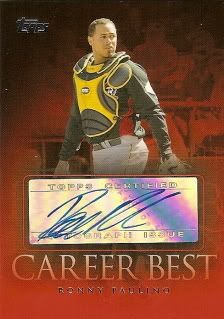 Yup, not one, but two Ronny Paulino Autographs. Exhibit C, a Ronny Paulino jersey card is somewhere in the midst of my cardboard ruins. 2 Autos, 1 Jersey and countless cards has to put me at least in the top 5 right?
And that's not all. I think I may be the world's Supreme Miguel Montero Super Collector as well. I have 5, you read that right, 5 Miguel Montero Autographs. 3 of the autos are from Topps "Finest", ironic quotes intended. 2 are pictured here, the third is currently being used as a coaster.
I'm a magnet for junk hits, but then again I think everyone is. Thank God for ye ol' interweb. I can't imagine pulling these cards from packs and not being able to go on other blogs and message boards and seeing similar stuff pulled by fellow collectors. I'm also fully aware that my junk hits may be a treasure to a fan of crappy backup catchers, likewise someone else's junk hits (Jeff Mathis, Sean Rodriguez, etc.) would be a sweet find for me.
So in celebration of the junk hit, I've decided to post some of my favorites. Of course, the sterling examples of Ronny and Miggy are above, but I figured today's edition of Junk Hit-O-Rama should feature one of my favorite products. Allen and Ginter. Clearly, you buy this product for the base set, but you'd like to think you might pull a decent autograph here or there, instead you normally end up with...well, this. Enjoy. More to come.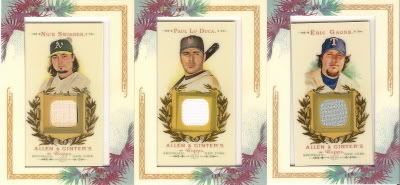 Jerseys of Nick Swisher, Paul Lo Duca, and Eric Gagne...with the Rangers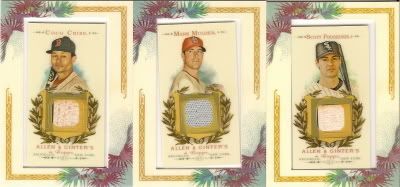 Bat of Coco Crisp, Jersey of Mark Mulder, Bat of Scott Podsednik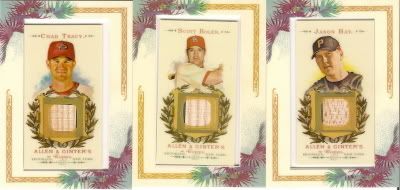 Bats of Chad Tracy, Scott Rolen, and Jason Bay
I'd like to tell you that those are the only junk hits I've received from Allen and Ginter products, but I'd be lying. Tiny wood ships and pieces of fabric, encased in purple palm trees, it gets no better for the junk hit collector.
I promise the hits keep on comin' over the next few days. So please sit back and wallow in my mediocrity.
Go Halos!