The return of the fun card back is upon us. This is a bit of a Cub heavy edition, from all-stars like Grace and Sutcliffe, to the not so stars like Doug Dascenzo. Yup, 2 straight days of Dougie posts. And an added bonus, the Babe Ruth of Collectible Cardboard, Bip Roberts makes an appearance.
First up, a non-Cub, non-Bip, Bob Welch.
Maybe it's the Daddy in me, but you gotta love a card with Dad and child at the ballpark clowning around. Hailey is just a couple of months away from her first game and the excitement is in the air. Last week, we drove by a little league field with kids practicing and she announced that the Angels were playing and that we should watch.
Chuck McElroy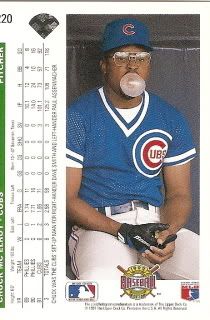 Why is this card back amazing?
1. Wire rim nerd glasses.
2. Blank stare.
3. Bubble gum bubble blowing.
4. Pitcher wearing a batting glove.
The Red Baron, Rick Sutcliffe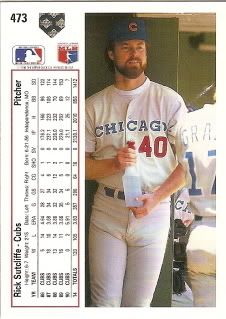 A perfect action shot of Rick squirting Mark Grace in the face with water. Added bonus point for a Grace cameo, which I'm a big fan of.
The actual Grace.
As I go through my Grace collection and add more and more cards to it, I find more and more cards I love. Not often that we see players out of uniform on cards. Love the shirt, the sentiment and the stare.
Lil Dougie.
Why is this a fun card back? Lifetime pitching stats - 4 IP, 0 Earned Runs. The Cubs should have kept this man out of the outfield and on the pitching mound. I'm always a fan of cards that show players playing out of position.
Finally, Cardboard Jesus, Bip Roberts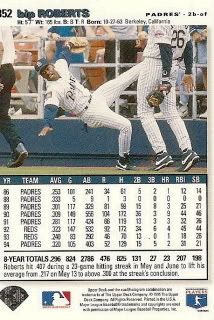 I'm just a sucker for any Bip card, so while this may not be quite as odd or funny as the others, I'm still a fan. Bip in the middle of the action, mid-fall. Bip always gives it his all.
So there's part 2 of who knows how many to follow. Times are slow with my Target refusing to stock the shelves with Topps.
Go Halos!