I Heart a non-Halo and his name is Brandon Phillips. I'm not sure what first drew me to Brandon, but I was hooked almost immediately. Thanks to the wonderful people who created MLB Extra Innings, I found myself tuning into Reds games at 4:00 out here on the West Coast, while I awaited my Halos playing at night.
Brandon has had a bit of roller coaster ride on his way to semi-stardom and maybe that's what I like about him so much. A guy who was expected to be so amazing, was part of a huge deal for Bartolo Colon and then was eventually traded for a player to be named later. There it is, the ultimate insult. We're gonna trade you to another team and we don't even know what we're going to get in return.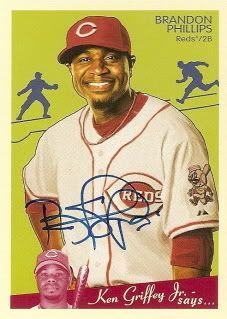 After a decent 2006, Brandon had a very strong and very overlooked 2007. S008 was another decent year, but I've been hooked for a while so it didn't even matter. I just love the way the guy plays the game. He's got style without being lazy or showboating. He plays second base and won a Gold Glove, but the guy can hit 30 bombs.
So after a couple of years, I've got a pretty sizable BP collection and it is easily my largest non-Halo collection. Budget tightening has led to me slowing in my pursuit of any non-Angels cards, but I still look for Phillips cards whenever I get the chance. However, it was much easier when Brandon was lesser known and thus lesser valued out on the interweb.
At times I feel guilty about collecting a player who doesn't have the A on his cap, but it reminds me of my youth as well. A time when I collected the cards of the players who fascinated me. In this day and age of the internet, cable TV juggernauts and MLB Extra Innings, you can follow any player or any team and it almost feels natural, like a hometown team. So while Brandon Phillips doesn't play for my Angels, I'll still watch him throughout the season and collect him whenever possible.
Go Halos! Go BP! Go Secret Shame!