I used to loathe trading baseball cards. My friends and I would spend hours hammering out deals and negotiating these trades and in the end I'd end up with a new Mark Grace or Kirby Puckett and have to give up a Don Mattingly and Hensley Meulens. I'd spend hours afterwards trying to convince myself that I got the better end of the deal. We'd all spend hours studying our Becketts adding up book value and trying not to get ripped off. I had no need for a Kevin Maas card, but I felt like I needed to own it, so it was so hard for me to give one up, even if it meant a stack of Ruben Sierra cards that I really wanted.
Nowadays, trading has become a much more pleasant and freeing experience. I love it. I ship off some cards from teams I don't collect and players that aren't a part of my everyday baseball life and in return I get cards of players that hold a spot in my heart...and occasionally have broken that same heart.
I also love getting cards from sets I never collected and often have never even bought a pack or a single from. The best part however, no more angst. I used to worry about if what I was getting back was worth what I was sending out. Now, my favorite part is putting together a package that I hope my recepient will really enjoy. No more trying to win the trade, instead it's just collectors helping out other collectors. A truly cool experience.
Adam from Thoughts and Sox
recently sent me a stack of Angels cards and I in turn sent him a stack of Red Sox cards. He sent me a great and varied stack of Halos and the best part of it was the variety. A few of the highlights follow, but it was all pretty sweet. Thanks again Adam.
VLADDY
The Gold Rare Version. Sweeeeet! Gotta love inserts.
Brick Wall...Check. Wild Hair...Check. Miniature Card...Check.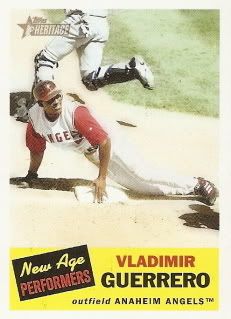 Heritage New Age Performers. Like the photo, love the set.
Old School Bowman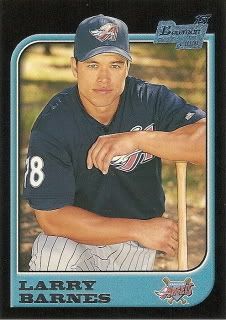 16 Games as an Angel in 2001. Cards like these only come from trades and they are gems. How else would I come across a Larry Barnes rookie card.
Ahh, Ramon. What could have been? I remember when we deluded ourselves into thinking you were the next Pedro Martinez. Hmmm, not so much.
*sniff* GA *sniff*
Adam sent more than a few Opening Day cards and I love it. This one is obviously my favorite, but it goes back to the idea that I've never opened a pack of this stuff, so it's great to get a bunch of Halos from the set.
And some more Heritage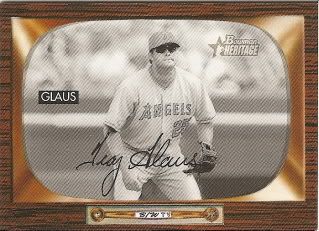 2004 Bowman Heritage. The black and white photographs is a great throwback. Will the Angels ever replace Glaus?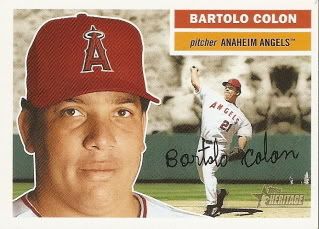 Bart. I love this set. It's my favorite Topps design of all time and my favorite Heritage set as well. 2005 marks the Cy Young year of Bart...of course he was 7-13 after 2005 for the Angels, but that was still one hell of a year.
Thank you Adam for some great Halos.