For me, it started in 1995. I was a junior in high school and baseball was my life. I had been idolizing baseball players since as far back as I could remember. I bought a Twins hat so I could be Kirby Puckett rounding the bases in the World Series, a Cubs batting practice jersey so I could be Mark Grace hitting doubles into the ivy, and everything Ken Griffey Jr. related so I could be the greatest player around. All of those players meant the world to me and I still look back at them with a great amount of fondness, but none of them played for my team. As I grew up in Texas, I never really had a team, it wasn't until I finally moved to California that I made it official and pledged my allegiance to the Halos.
They were awful. Dreadful. Worse than bad. But they were my team. I've chronicled my love for Luis Polonia and how much I appreciate him getting me through those tough years. Players like Mark Langston, Damian Easley and Tim Salmon kept me interested during lean times, but none of them were MY guy. That all changed in 1995, the year that Garret Anderson came into my life. I was a baseball obsessed teenager with a vehicle and a few dollars in my pocket that came from sweeping up sawdust in 95 degree weather for 9 hours a day. Almost all of that money went to the California Angels and their outfield seats.
While my Dodger friends were suffering from Nomo-mania, I was forging a relationship with an outfielder who made everything looked so easy. I never saw him strain, I never saw him look stressed, instead he was always calm and always smooth. For some Angel fans, that was his downfall over the years. He didn't hustle enough, he was too lazy, but I never thought that. To me, I saw a guy give 100% of himself, without having to bring attention to himself by diving needlessly, knocking off his helmet as he rounded first, or slamming his bat into a wall after a strikeout. Those qualities made other players fiery or intense and I'd argue that GA was just as intense, he just didn't need to prove it.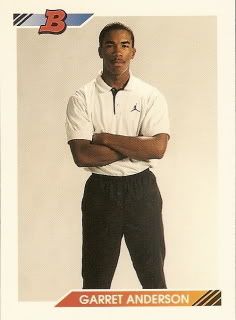 It wasn't until June of 1995 that Garret found a permanent home in the Angel outfield, which coincidentally coincided with my being out of school and spending every moment immersed in the Angels. By mid-July Garret was becoming a force and I had a new favorite player. Jim Edmonds, Tim Salmon and JT Snow were gaining popularity at the Big A, but none of them had what I wanted in a favorite player. Garret had an edge without ever trying. He did it all and he did it without seeking attention or self-promotion. And he did it all in my first summer of real freedom. I spent as many nights at the stadium as I did at home, every night with my Angel hat on my eyes fixed on number sixteen.
Over the next couple of years my love for GA continued and he was officially my guy. Ken Griffey Jr. had been my favorite player for years and to this day I remain a huge fan, but for the first time in years when I was asked who my favorite player was, I would respond Garret Anderson. He wasn't the sexy choice and my less ardent baseball fan family would often say, "Who's he play for?", but it meant something to me that my favorite player wasn't everyone else's favorite player.
In the fall of 1996 I left for college down the freeway at San Diego State. This meant I was an hour and a half away from my Angels and it wasn't easy on me. The first semester was okay because the Halos were out of it in the fall and I was too focused on the new world of college, but by the spring of '97 I was already sick of hearing about the Padres. On a number of weekends I would drive home to see my girlfriend, who is now my wife, and every time the Angels had a home game on Monday, I'd stay behind and take her to the games, gladly paying five dollars per ticket. As we sat up in the Upper View section, I'd make her watch Garret Anderson and did everything in my power to convince my girlfriend to love him too. Eventually I hooked her not by his skills or his play, but by his number. 16 was her favorite number so it only made sense that Garret should be her favorite player.
After that year I came back to Orange County and wouldn't return to San Diego until 2000 with my wife in tow and our love for the Angels brought along. I would follow the Angels on the internet, through the newspaper and whenever I could catch a game on Fox Sports West, until they eventually started blacking the games out. Any weekend that I could convince my wife to get in the truck, I'd force her up to Anaheim to watch Garret. It wasn't always about the Angels during those years. They were my team, but I missed my favorite player. It's a relationship that you build over the years. He was always there for me, in left field and hitting in the middle of the lineup. Probably the hardest part of living in San Diego during those years was not seeing my team and not seeing my player.
Everything changed for Angel fans in 2002. The Angels finished 2nd to a 103 win A's team, but they won the wild card and were finally in the playoffs again. I had my new red Angels hat and I wore it for every single out during those playoffs, along with my Garret Anderson jersey t-shirt. Garret hit .389 against the Yankees in the Divisional Round, he homered and doubled against the Twins in the Championship round and then it was the World Series. Suddenly, I wasn't that weird for wearing an Angels hat and telling people that Garret Anderson was a stud. I had no chance of getting World Series tickets, so I experienced it all on my couch with my wife. I can only imagine what the neighbors thought as they heard me screaming for joy one day and blubbering with tears the next. My love for Garret and the Angels was in full effect, but all of us were on life support during Game 6.
Game 6 was like nothing an Angel fan had ever experienced before and my guy was right in the middle of it. I went from curled up in a ball cursing the team and all of the depression they were bringing me, to huggging my wife so hard, my arms are still imprinted on her back.
Then it was Game 7, it's still a blur to me, but one play will forever be etched into my memory. Bottom of the thrid, Eckstein on third, Erstad on second, and Salmon on first. Garret's double that scored three was the biggest moment of my baseball fan life. My favorite player had come through on the biggest stage, to win the deciding game of the World Series. This hit brought a championship to my team for the first and only time in our existence.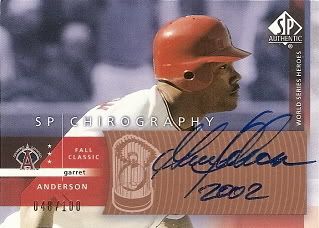 All of a sudden, liking Garret Anderson didn't make me weird, instead I had company. During the All-Star break in 2003, Garret continued on his magical big stage run by winning the home run derby and then All-Star game MVP after going 3-4 and driving in 2 runs. Being a Garret Anderson fan was cool and I hated it. I hated having to share my favorite player with casual fans. I was okay with other Angel fans liking GA, it made me feel validated when others would agree with me about his awesomeness, but this was different. These were bandwagon fans who didn't really appreciate GA. They weren't in a 2/3 empty stadium in 1995 watching him get his start.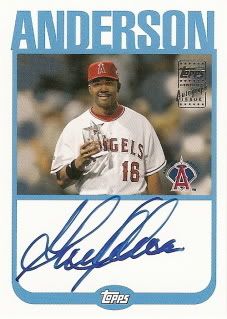 The bandwagoners quickly dropped off after an injury plagued season in 2004. That along with the arrival of Vladdy to southern California made Garret a forgotten man once again. By 2008, I was once again felt like I was alone in my admiration of Garret. I'd pick up his autographs on eBay for no more than a few dollars, I'd wear my GA shirt to the stadium and be overrun by Vlad shirts and Rally Monkeys. As 2008 came to an end, the writing was on the wall, but I didn't want to face it. The Angels were going to buy out Garret's contract and with that move he would no longer be an Angel. I held out hope that the team would come to its senses and bring back the team's all-time greatest player, but I knew it wouldn't happen. There was never going to be a groundswell of support for this guy because he wasn't Tim Salmon. He wasn't the golden boy, instead he was the lazy leftfielder who never showed the intensity of other players.
Now on February 22nd, I sit in my office surrounded by baseball cards of Garret and I don't know what I'll do when I show up to the stadium on April 6th. For the first time in 14 years, my favorite player won't be out there and I feel lost. I like Howie Kendrick a lot, I'm looking forward to seeing how Kendry Morales does on the big stage, and I really hope that we'll see a return of a healthy Vlad the Impaler, but in the end, none of them can replace my guy.
I'm sure it will get easier over time, but it'll never be the same for me again. I'll never be that 17 year old sitting in the outfield seats rooting for the new guy who makes it all look so easy.
Goodbye GA, I wish you all the luck in Atlanta and I hope you prove so many people wrong. As for me, Angel games will have a new flavor and I'll have new players to root for and lament about, but none of them will ever replace my guy, Garret Anderson.
Go GA! Go Halos!