The box finally arrived this morning, I finally opened it after spending a couple of hours straining my back organizing cards on the floor, I scanned as many cards as I could before going a little crazy and finally I'm here to write about it.
Let's start with the "hits".
Autograph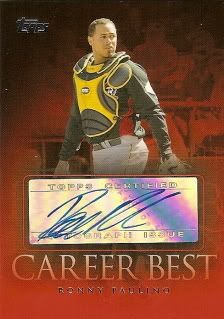 If you want my thoughts on this, scroll down a post or two. Not terribly thrilled with this, but I wasn't expecting a whole lot.
Relic #1
I seem to pull a lot of Ortiz relics, but I've never gotten an autograph, whether through packs or eBay. I don't find these Career Best relics to be terribly attractive. I like red, but even so this is a bit much. Kinda blah, kinda over it.
Relic #2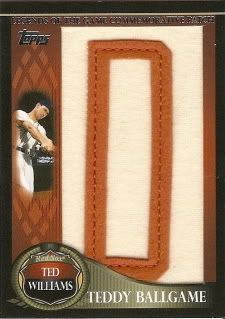 I guess this technically counts as a relic, even though it's just some felt that was probably sitting in a Michael's or a fabric shop 6 months ago. I like many others, just don't get what the point of these cards are. I like bringing the Legends into things, but this just doesn't do it for me. That being said, it's at least more visually pleasing than the above "hits".
Hits Grade - C- (I think the hits speak for themselves)
1/1 Sketch Card
This added bonus was a huge surprise to me. I tend to feel that my luck is essentially crap when opening boxes, so this was a huge surprise. Of course, it's a redemption, so a year from now I may receive a second Ronny Paulino autograph as a replacement. As far as 1/1s goes, I like that these are real 1/1s. Much better than a jersey piece that's numbered 1/1, while of course there's a /50 version, /100 version, /999 version.
Bonus Awesomeness Grade - A (The plus is being withheld until receipt)
Legends of the Game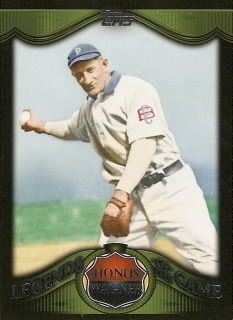 I'm for anything that brings back some of the history of the game into card sets. I pull enough rookies who won't have more than a handful of at-bats in their career, so it's nice to get cards of some of the greatest of all-time. It helps when Jackie Robinson is one of those cards. Love me some Jackie.
Legends:
Jackie Robinson
Honus Wagner
Cy Young
Tris Speaker
Jimmie Foxx
Lou Gehrig
Mickey Mantle
Mel Ott
Carl Yastrzemski
George Sisler
Legends Grade - B+ (Where's my Nolan Ryan in an Angels uni? Stupid Astros)
Turkey Red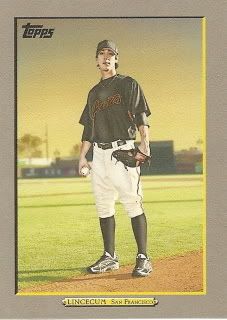 If they hadn't beaten Turkey Red dead, I'd probably like this more. Also, I think player choice was a little odd. I love the Jackie, of course, but for the most part they all look pretty good. Definitely true to the Turkey Red posed look.
Other Turkeys:
Joe Mauer
Kosuke Fukudome
Jacoby Ellsbury
Kelly Johnson
Corey Hart
Cliff Lee
Hunter Pence
Nate McLouth
Turkey Grade - B (A nice addition, but player choice could have made this better)
Ring of Honor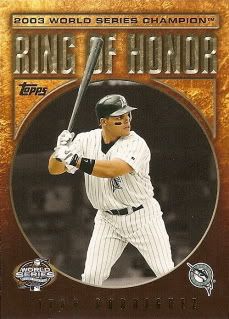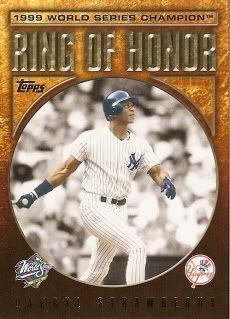 Maybe I missed something, but what's the point of Ring of Honor? So these guys are World Series champions and ummm...well I guess that's it. Although I was really annoyed when I got these last year and they were all '86 Mets, these are at least an improvement as far as variety.
Other Ringers:
Roger Clemens
David Ortiz
Jim Leyland
Gary Carter
Orlando Cepeda
Andy Pettitte
Albert Pujols
Ryan Howard
Ring of Honor Grade - C (Just seems uninspired. At least the variety meant cards of Straw, etc.)
Parallels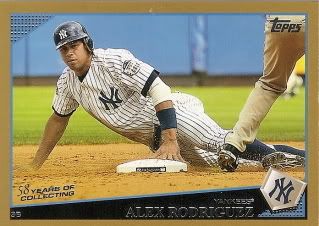 I think these cards ended up looking pretty slick with the 2009 design. The black border is especially nice. As for my pulls, Dukes is a jerk, so that's a bummer, A-Rod is the current disgrace of the game, but there were others. A sidenote, I like the Classic Combos cards (seen here with Kazmir and Price) a heck of a lot more than recent years. I like that they have an actual connection and the titles like Ray Guns and Brothers in Arms for Hamilton and Saltalamacchia are a plus.
Other Goldies:
Hiroki Kuroda
Alex Hinshaw
Yuniesky Betancourt
James Shields
Justin Duchscherer (Added bonus for being from Lubbock, TX)
Casey Blake
Jonathan Van Every
Joe Crede
Parallel Grade - B+ (I'm a sucker for semi-fake rarity)
Bonus parallel/SP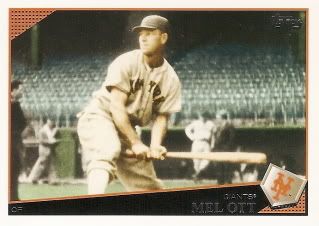 I'm not sure of the total story on these SPs, but I like this Mel Ott card. I wish they weren't SPs and instead maybe they inserted 15-20 of them in the actual set, but it makes for a pretty cool chase. I'll definitely try to go after them.
Bonus Parallel/SP grade - B (I'll have to come across more of them, but I was happy with this card)
Finally, the Halos. I'll limit my commentary to 5 words.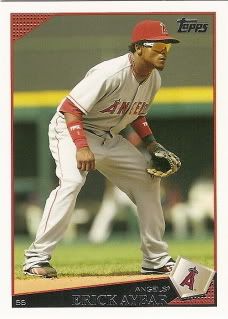 Aybar wears pajamas in field.
Bye bye Mr. 5 ERA.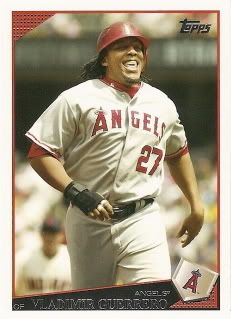 First card pulled, happy Vladdy.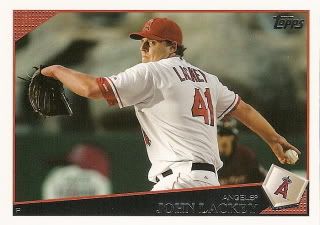 Sign him now Mr. Reagins.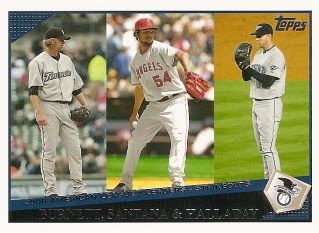 200 K's, do it again.
Only Halo to hit Boston.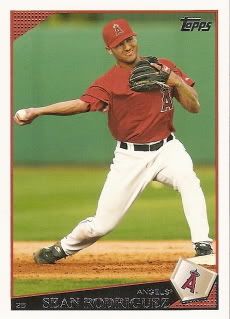 I like, not sure why.
I agree with you, who?
Joe looks like lefty Lackey.
Maybe golden boy's last chance.
Me sad, Teix trade lame.
Miss you Kotch, go Kendry!
Halo grade - A (I could have done without the Teixeira doubles)
So there you have it, that's my Jumbo box of 2009 Topps. Overall, I was pretty happy. The base cards are a huge improvement over recent years. I wasn't as down on 2008 as many people were, but I wasn't too big a fan of 2007 or 2006, so it hasn't been the best run. Obviously, the photography is an improvement, but there's still too many spring training shots, especially among my Halos. The hits weren't great, but I don't buy base Topps for the hits. The Legends and the sketch card were a highlight for me, as both were positive additions to 2009.
Overall grade - B+ (There were some goods and bads, but in the end, it delivered on what I want and expect from a base set.)
Now I can exhale and let my fingers rest. I apologize for any spelling or grammar errors, I don't have the energy to read my own drivel. I need a vacation.
Go Halos!