Big Foot.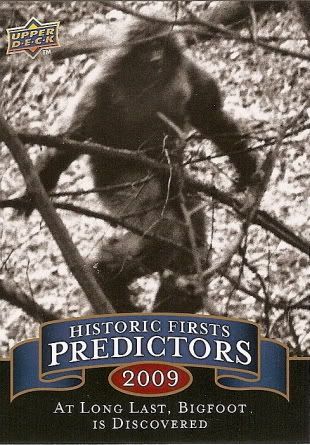 While I've stated my general distaste for pop culture cards in base sets like Topps and Upper Deck, I do enjoy them in the Allen and Ginter release and I'll admit that this predictor card is kinda fun. I could do without the Historic Firsts cards, but at least they gave birth to this.
What exactly do all of us win if Big Foot is discovered this year? A set of Upper Deck like past predictor winners? Or maybe Upper Deck will be in on the slaying of Big Foot and we can all receive complimentary Big Foot DNA relic cards. Sweeeet! You gotta love that with the direction of this hobby, that's not so far fetched.
Go Halos...and Prehistoric Beasts Roaming Today!