For my birthday, the wife found a few more packs of 2009 Upper Deck for me and luckily they were loaded with Angels.
First up: Team Checklist Gone Away-Rod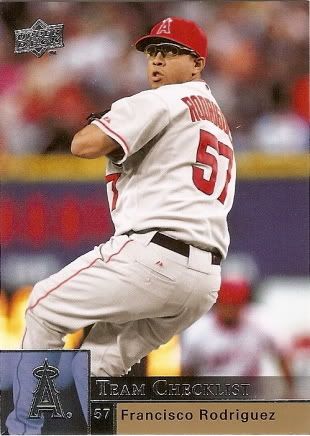 I realize that Frankie had a historic season, but Upper Deck had to know during production that he was leaving, would it be so hard to put someone else on the Checklist? Same with C.C. Sabathia on Brewers checklists. I'm sure the fans in Milwaukee are enjoying that reminder.
Torii "My Topps Cards Are Cooler" Hunter
Running out of the dugout cards never make for exciting cards, but at least we get the bonus of Macier Izturis and Reggie Willits in the background. The Angels desperately need Torii to have a strong season if they're gonna get to the playoffs.
Joe Saunders
Saunders made a huge jump last season, throwing almost 200 innings, grabbing 17 wins, making the All-Star team, but it seems like a lot of Angel fans are expecting the bubble to pop this season. I really like the lefty and hope he can keep the ball in the ballpark this year.
Black Magic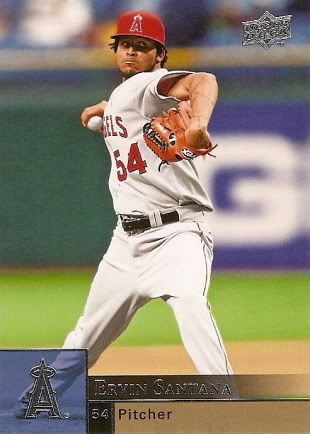 Santana's '07 was dreadful and his '08 was wonderful, as for '09...we'll see. I love the way this guy pitches and I'm really hoping for big things from Black Magic. You always roots for the guys on "your" team, but Ervin has a special place in my rooting heart.
HK 47
I love Howie. This guy was an absolute hitting machine in the minors, unfortunately while Howie has been pretty good in the majors, he just hasn't been able to stay healthy. On top of that, there are always the persistent rumors that he'll be traded for someone like a Jake Peavy. While I'd love to have Peavy, I hope it's not at the expense of my boy Howie.
As for this card, one of the better action shots I've seen and easily the best Halo action shot in the series so far. The odd part though is the back. While most of the pictures on the back are just a cropped version of the picture on the front, Howie's card has a whole new picture on the back.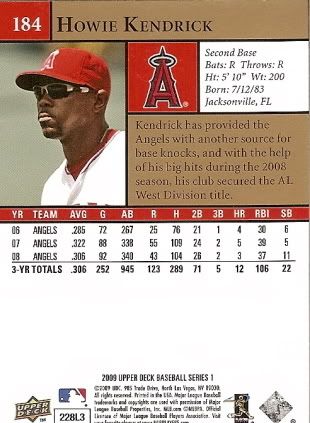 I hate when companies just crop the front pic for the back pic, so this is a nice surprise, just not sure why they did it. The Saunders card also has a new picture, but not the Hunter or Santana.
Oh well, so there we are. More Upper Deck packs ripped into and more Halos to show for it. Hopefully my box of Topps will finally arrive tomorrow and I can start enjoying those.
Go Halos!