My ever-loving wifey was at Target today and in a moment of weakness, purchased me a blaster of 2009 Topps. I quickly looked at the box and saw mention of this on the side panel, but gave it little thought. However, when I opened the box, a special package fell into my hand first and here is that pack's contents: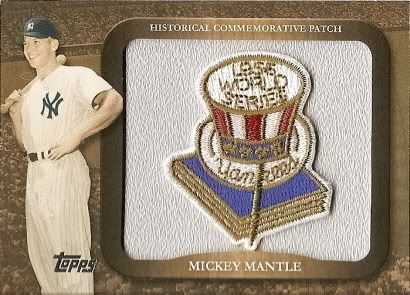 WTF? A Mickey Mantle 1956 World Series "Historical Commemorative Patch". The card is the 2oth of 50 such patches.
I haven't a clue as to what these are or why they are in this year's blasters. Was another manufactured patch really a necessity for this year's Topps product. I'm not sure if I prefer this over a piece of Ronny Paulino's pants or not.