After mentioning in my first
Cards That Define Me
post that I'd like to go back and pick up every Luis Polonia card I could get my hands on, I got a very cool start from Jim at
Taste Like Dirt
.
The iconic '88 Donruss with the funky red pipes running in the background.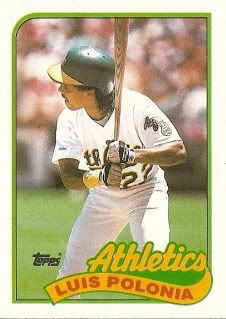 '89 Topps
Since most of my collection has gone missing over the years, it was fun to open up the package and see these again. And what's even better, the '89 Topps card features the jhullet in all of its glory.
I've already started scouring the few boxes I have left from the 80's and 90's and finding whatever I can on the internet, so hopefully the pursuit will continue and the Polonia plunder will bountiful.
Go Halos!