The battle for 1987 cardboard supremacy was nothing short of an epic war. Topps came out strong with a couple of iconic cards, Donruss battled back with Bip, Tekulve and an onslaught of stars, finally Fleer came armed with a number of Angels and perhaps my favorite card from 1987. Ultimately, Bo and the Halos brought home the victory for Fleer.
So while Fleer will be crowned the winner, it's really all of us who are the winners. 1987 produced three distinct designs that served their cards well. Of the three, Topps has a very retro feel that reminds me of some of the first cards I ever owned. Donruss and Fleer were both somewhat foreign and harder to find for me in my early collecting years. I've picked up a few of these cards over the years, but they've always been somewhat of a mystery to me. Fleer's blue borders were unique and with cards like the Bo Jackson, they just look slick. While the black Donruss borders often appear chipped in my collection, this rack pack was filled with gems and because of it the cards are some of the nicest I own from this era.
The highlights: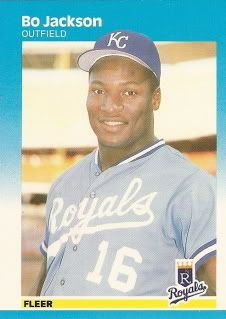 The Bo is my favorite, but the addition of Tekulve made for some good times. Thanks 1987, I look forward to visiting you again some time.
By the way, my hunt for anything 2009 is still on going, perhaps today will bring happiness and satisfaction, but it's unlikely.
Go Halos!