In what can only be described as a rare mix of ambition and stupidity on my part, I decided it was finally time for me to step up to the plate and start organizing my collection. For the past few years I've bought a number of packs and boxes, but for the most part the cards have either gone into binders (Topps base, A&G, etc.) or they've gone right back into the boxes and stacked on a couple of shelves in my closet.
Although I'm not certain the exact direction my organization will eventually take, for now I have decided to sort everything from the past couple of years by team and then work from there.
The process has actually been fun as well as enlightening. I saw a bunch of cards I haven't spent much time looking at in the pas couple of years and I even came to appreciate some cards ('07 Turkey Red) that I hadn't previously cared for that much. The Turkey Red cards had a new look in '07 and the art on some of the cards almost seems amateurish, but I like a lot of the color showing up on the backgrounds and the chrome was a nice addition.
But besides the fun of seeing old cards, the enlightening part came when looking at the stacks after going through a number of boxes. Pirates collectors are getting screwed. That's not to say that I want my 2009 boxes filled with cards of the Bucs, but it has to be tough to collect these guys. Here is a look at the Yankee stack next to the Pirates stack.
There you have it Pirates fan. Pirates binders across the country are looking a little thin I'm guessing.
I realize that the Pirates have been dreadful the past decade and don't have the stars to fill the sets, but wow. The thing that kills me though, is how many freaking Pirates relic/autograph cards I've pulled. Couldn't the card companies at least make it all proportional? Here are the Pirates relics I came across during the same period.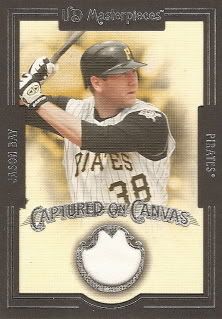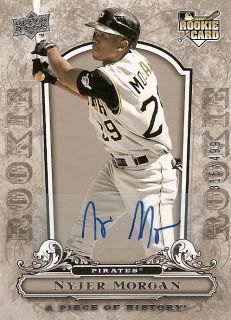 Pirates, Pirates everywhere!
Yurendell De Caster? Chris Duffy? Nyjer Morgan? Uggh.
So while I started to feel bad for Pirates fans, but then I realized how nice this must be. I can't imagine that a Pirates collector would have too much trouble picking up all 4 of those cards for more than 5 bucks. So they don't have many base cards to search out, the autos and relics are plentiful and cheap. It must be a joy to collect the Pirates...except of course the whole watching the team play baseball thing.
On a sidenote, my box of 2009 Topps finally arrived this morning, so I'm looking forward to ripping into that and hopefully grabbing more than a few Angel cards.
Go Halos!