"The Cards That Define Me" will hopefully be a series I can keep going throughout the year or at least until I run out of cards that define me. I'm not that complex, so expect this to peter out by Valentine's Day.
Luis Polonia probably seems like an odd choice to start out a series of cards that defines a person, unless of course you had the misfortune of watching the early 1990's Angels play baseball.
Luis came over in a trade from the Yankees in late April of 1990 for Claudell Washington and Rich Monteleone. Angels 1 - Yankees 0. You may have signed Teixeira, but we completely owned in you in this swap.
Luis quickly became my favorite Angel during this period. Wally Joyner was nice, but that was part of the problem, he was too nice. I needed an Angel with some edge. The man with the jheri-curl mullet, had that edge.
As for the card, a 1991 Upper Deck Luis Polonia, #187 in the set. Yeah that's right, Upper Deck gave him card 187, the Cali penal code for murder. Did I mention this guy had an edge?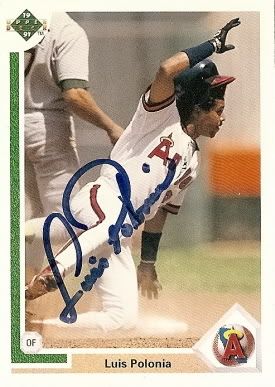 Classic Luis. I'm assuming he's breaking up the double play here or perhaps more likely, the A's knew better to even attempt to go after Luis at second and instead just went after Winfield at first following another of his spectacular ground outs that season.
Even better is the back.
Is there any doubt that this was one of Luis's three errors on the season? Not that I care, Luis made the game fun for a 12 year old watching from the Upper View Level. Note the Jheri curl mullet peaking out the back. There should be a word for this, I vote "jhullet". I miss cards where the back was often as exciting as the front. I've had my fill of flipping to the back only to find the image from the front cropped into a tiny box...yes, I'm looking at you Stadium Club.
So why does this card define me?
1. I loved Luis Polonia. He was everything that made baseball exciting for me. Sure, I loved the bombers just like everyone else, but Luis was the only guy I would stare at for the entire game.
2. I was able to get this card signed in person during the last home stand of the year, when the Angels would have fan appreciation days. It was almost impossible to get to someone like Joyner, Winfield or Abbott, but Luis was not exactly mobbed. He signed my card, talked to me for a bit and made me a fan forever.
I often think about going back and trying to pick up all the old Luis Polonia cards that I can find, but well...Luis isn't exactly a guy filling up the eBay auctions or easily found in the monster boxes at your local card shop. One day Luis I'll do my collection of you proud, but for now I'll just enjoy the memories of your jhullet and this card that defines me.
Go Halos!