Ervin Santana has signed a 4 year deal
with the Angels. The deal kept the two sides out of arbitration and could lead to the Angels buying 2 years of free agency from Santana.
I love the deal, because I love Ervin. His 2007 was horrible and had many people questioning whether he'd be able to get it together, but after a very strong 2008, I really hope he's got it all going in the right direction now. As it is, Ervin is the youngest pitcher in MLB with 50 wins. 300 is right around the corner.
What good is this post without cards? Well, we'll never have to ask that question. Here are a few from my shoebox, in all their plasticy protectiveness.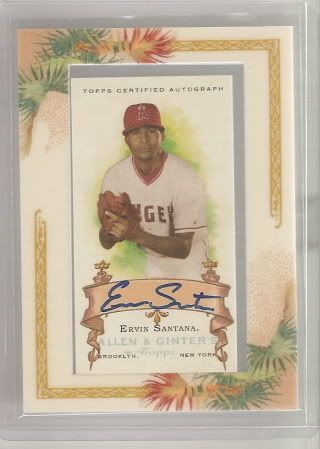 Allen and Ginter 2006
2006 Bowman Originals buyback of 2004 Bowman Heritage 24/62
2006 Bowman Originals buyback of 2005 Bowman 64/67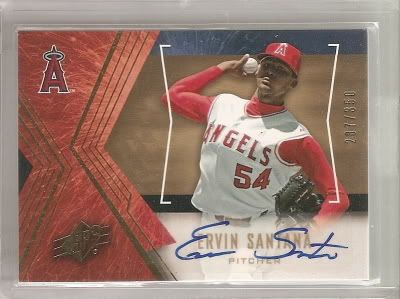 2005 SPx 287/350
2006 Topps Triple Threads 16/50
2004 Donruss Elite 28/50
Go Halos!