Recently I opened a cheap box of 95 SP and came across
a bit of an odd trend
. Apparently around 1995, players suddenly felt quite generous and were often photographed giving back to the fans. The oddities in 95 SP don't stop there though.
A few other cards popped out at me and over the next couple of days I'd like to document the oddities, wakiness and at times awesomeness that is 95 SP.
First up, broken bats.
Billy Ashley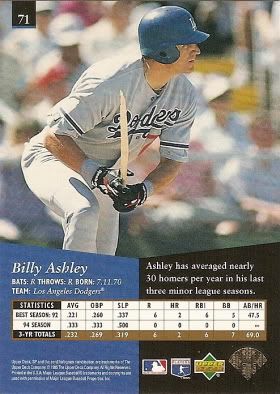 Broken bat, broken dreams for Mr. Ashley. Supposed to be the next in a long line of Dodger rookie standouts, Mr. Ashley instead never lived up to the hype. Perhaps his use of lumber was the problem.
Matt Williams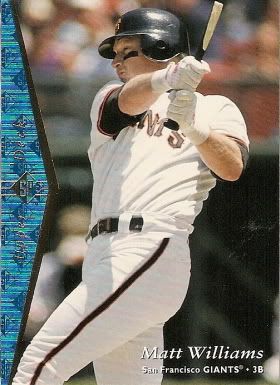 The balded one with broken bat. Apparently this lack of stable wood was prevalent among the sluggers as well.
Mo Vaughn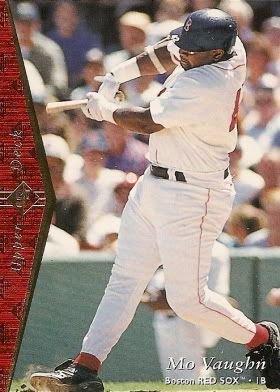 Seriously, was it necessary to have three cards featuring broken bats. It's not like I even have a complete set here, there couldn't certainly be more.
Next up for today, the error.
Honestly, how often do you come across a photo and instantly know that the play was botched? It certainly seems like these photos should have been left on the editing floor.
The best part of it, the errors happened to:
Career backups wearing #58 on their jersey,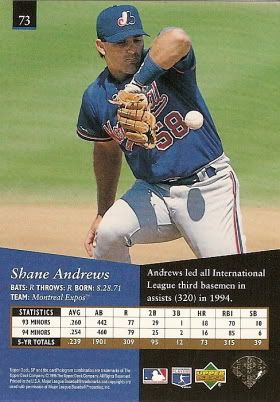 Catchers who had no business on the infield,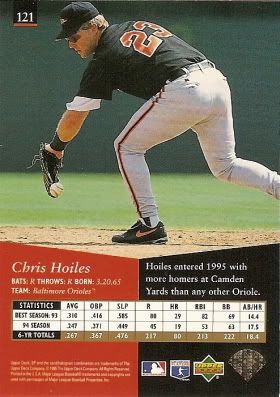 Talented offensive first basemen,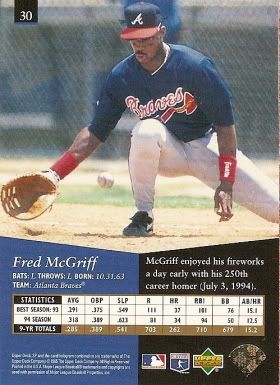 And perhaps the greatest defensive shortstop of all-time.
95 SP, a set of oddities. Coming tomorrow, Rod Beck's two sport career, Will Clark's hairline, and the Karate Kid as interpreted by an umpire spitting second baseman.
Go Halos!