Not a lot to say today, so I figured I'd post a couple of Polonias that have been added to my attempt at a master set of all things Polonia. Going through the stack, a couple of oddities stood out and I had to share with the world, because you can never get enough Polonia.
'93 Donruss and Upper Deck
I realize that Luis probably dropped a few hundred bunts in an Angels uniform at home, but it just feels like these two cards are pictures of the same at bat, just fractions of a second apart. The Donruss card is more zoomed in and not nearly as sharp, but shows Luis just as he is dropping one down. Same batting gloves and sweatband placement, same background look and notice the ball on its way down in the first picture and on the ground in picture two. Same year, different companies, perhaps the same moment.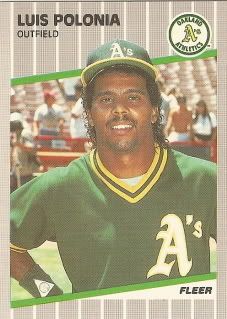 '89 Upper Deck and Fleer
Now these two cards are obviously not the same picture, but you have to think these pictures were taken on the same day. Notice the background, the one and only Big A in Anaheim, California. In one he has the right field stands for a backdrop, while it's the field level seats in the other. Everything else about these photos is identical. Hat laying on top of jhullet, gray undershirt with green BP jersey on top, green wristbands with A's logo inside white triangle. His smiles even suggest a slight evolution. The Upper Deck picture was probably first, Luis is pleased to be posing and has a bit of joy. The Fleer photo however, shows Luis after a few minutes of photos, slightly annoyed, but still willing to offer up a smile.
So there you have it, a little seeing double with my man Luis Polonia. It's not as cutting edge as black Topps cards or discovering Heritage out on the market, but that's what I got for you.
Big 12-3 victory for the Halos today against the White Sox. Clearly this is a sign of dominance for the Angels in 2009. The future, Hank Conger was 2-3 with a couple driven in, so I was excited by that.
Go Halos!