OK, you could very easily make this stuff up, but I didn't.
So, earlier today I was organizing my cards and ended up posting about how I had such a small stack of Pirates cards, yet it seemed like I was always pulling crappy jersey and autograph cards of Pirates players. Fast forward a couple of hours and I've finally got my box of 2009 Topps in my hand. I pulled a bat card, a Legends "Letter" and of course an autograph...an autograph of another freaking Pirate.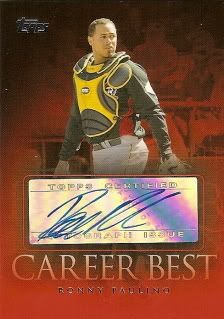 I know, she's a beauty. Ronny Paulino. Brutal. An autograph of a guy who played in 40 games last season, hit .212, and was sent down to the minors. Now he's a member of the world champion Philadelphia Phillies and is listed 4th on the depth chart at catcher. Thanks Topps.
As for the rest of my box, I'll hopefully post the results tonight, if I can get all the scanning done and find the time to type it up, etc. The good sign was that the top card on my very first pack was Vlad Guerrero. Again, you can't make this stuff up, even though you can. Of course, it was a little annoying to pull that same Guerrero card again in my 3rd pack. The highlight? A 1/1! But the question is, "What 1/1?"
Go Halos!