1995.
The 49ers demolished the Chargers in the Super Bowl.
The Dow closed over 4,000 for the first time ever.
Yahoo! was founded. Selena was murdered by a crazed fan.
Cal Ripken Jr. broke the consecutive games streak.
Seamus Heaney won the Nobel Prize for Literature.
And a teenage Halo fan bought his last packs of baseball cards, until his interest was rekindled in 2006.
As part of my massive cleanout and organization project that I've been undertaking for the last few weeks, I came across the final cards I purchased back in 1995. There were very few cards that I found in the middle of one of many boxes. Although they weren't plentiful, there were some interesting cards in the stack and I began to regret not collecting more cards from those days, but of course I had a few other priorities back then.
The cards I came across came from three sets, Upper Deck, Stadium Club and Leaf. Here are a few of the highlights. I may have to begin scouring the ol' interweb for some 1995 wax just to see what I was missing out on.
UPPER DECK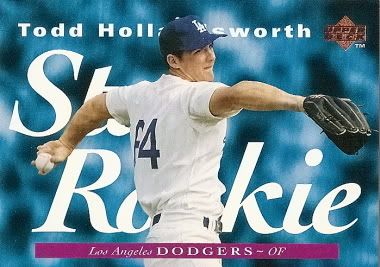 Todd Hollandsworth, 1996 Rookie of the Year and well a whole lot of years of not much else. Congrats to Upper Deck on their prediction skills.
An actual Predictor card of Jose Canseco. Apparently if Jose would have led the AL in home runs in 1995, I would have been the recipient of some odd card or doodad. Unfortunately, Jose could only muster 24 dingers and was obliterated by one Albert Belle. Thanks for the lackluster effort Jose.
Mike Mussina Electric Diamond. I don't know what makes this card special other than the Electric Diamond logo, but I feel special having it.
Fred, always the team player, always quick with the congratulations for others.
LEAF
I only had a couple of packs worth of Leaf, but apparently I hit the motherload as far as star cards.
Kirby, oh how I miss the days of Kirby Puckett. These Leaf cards look pretty slick. I'm always a sucker for a Kirby card. Finding this made me miss the purest days of card collecting.
The Big Hurt doing his Big Hurt thing. There has never been a more contact conscious swing that was filled with that kind of power.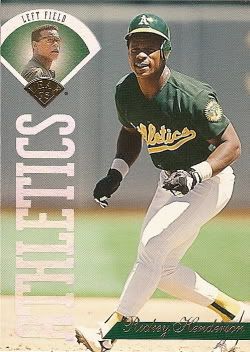 Any card with Rickey in an A's uniform and on the base paths is a winner to me.
TOPPS STADIUM CLUB
My man Ray Lankford. #1 St. Louis Cardinal of all-time. I feel like I've won the lottery discovering an extra Lankford and Puckett card for my collection.
Maybe my favorite Milwaukee Brewer card ever. How could I possibly have stopped collecting after pulling this gem? Stupid teenage priorities.
Ahhh, 1995. A year of many great moments and a very dark time for this collector.
Go Halos!