Rod from Padrographs
recently sent over a package of cards for no reason other than he's one generous fella. Rod holds a special place in the heart of all of us over here at this humble little blog (all of us being me) and not just because he sent along free cards. Rod was the first official follower of the blog and for a guy who thought no one would ever read a word of this, that was a pretty cool moment.
So what exactly did the man behind the Padrographs send out? A bevy of excellence.
Right off the top were a number of Rod Carew cards from his Halo days. I especially like the 9 of clubs from the All-Century Team playing cards. Also on the idols card is a small inset photo of Don Mattingly doing his best impersonation of Rod slapping one down the line.
Reggie also made a couple of appearances, first in the form of this Baseball Heroes checklist...love these cards.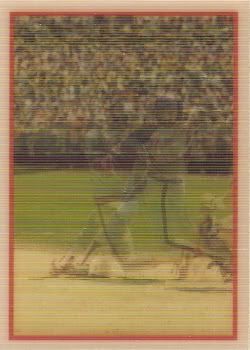 And also in holographic form, thanks to the fine folks at Sportflics. How can you not love any card that shows Reggie doing his kneel down swing.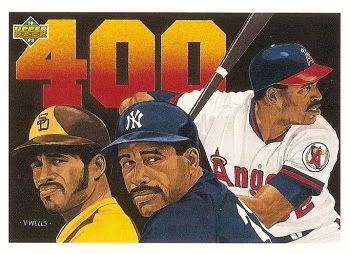 Winnie made an appearance in art form as well, here celebrating his 400th home run against the Twins.
While this Upper Deck card had a nice action shot on the front, it's the interview taking place on the back with Darryl Strawberry that is the real highlight. Thanks Rod, for including one of my favorite types of cards, cool Upper Deck backside photos.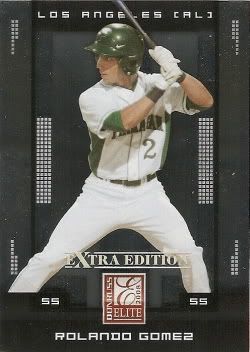 Rod also included some more modern fare, including this 2008 Elite Extra card of Rolando Gomez, 2008 draft pick of the Halos. I read that he's been compared to Rafael Furcal, so that's a plus.
1. I love the Aybar card with the space age shades.
2. I love gold bordered cards, even though they never look that nice color scheme wise.
3. This now gives me the regular, the blackout, the throwback, and the gold. Now I just need the black bordered (possible) and the platinum (no chance in hell).
My first Documentary card. The highlight of this card though is not the front, but instead the text on the back. "In his last nine at-bats of the series, Garret Anderson hit three HRs, a triple, and two singles and drove in eight runs. His big fly in this game came off of Yashuhiko Yabuta." Thanks for the memories GA.
Of course, what's a package from Padrographs without autographs, his specialty.
An auto of my main man, the lucky 13 Lance Parrish. A 1992 Topps Winner to boot.
An honorable mention on my
Fave 4 White Sox list
, Newson was just a young stud for the Las Vegas Stars, a Padres affiliate at the time, on this card.
Last, but not least, a healthy stack of my man, Cardboard Jesus himself, Bip Roberts.
The coolest card here for me has to be the 1987 Topps Tiffany. As a kid I never owned any Tiffany cards, so I still get a little thrill whenever I come across one today.
Thanks again Rod for your generosity and thoughtfulness. All of us here at I Heart Halos, again just me, will be working around the clock to find some nice Pads to send your way.
Go Halos!
Go Padrographs!