I'm not sure if it's possible to have favorites from the Nationals. I mean, I'm sure there are some fans out there and I added one to my Honorable Mentions, but in the end, this list is all about les Expos.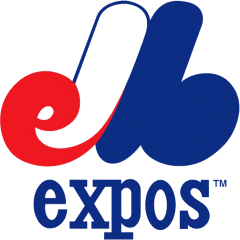 ...
As much as I didn't follow the Expos or watch many of their games, it does still sadden me a bit to think that our neighbors to the north, with their goofy logo and one-time powder unis are extinct. Some pretty decent players came out of the Expos system and too many of them were shipped off to other places to make their name in the game. Luckily for us Halo fans, one of their best has come to roam right field for us.
Les quatre préférés Montreal Expos
1. Vladimir Guerrrero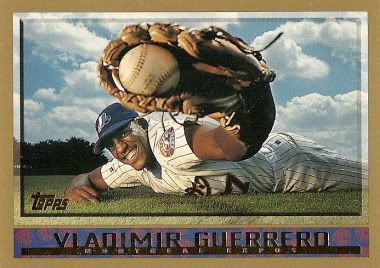 Vlad the Impaler. I've loved having Vlad as part of the Angels, but I have to admit he was even more awe-inspiring as an Expo. I can remember marveling at what an amazing player he was when he first came on the scene and wondering why the Angels couldn't seem to create one of these players from their farm system. Thank you free agency. If you've ever seen Vlad make a throw to third on the fly flat footed or hit a home run on a ball that should have bounced in front of the plate, you know what it means to be awed by this man.
2. Ivan Calderon
His murder was an unfortunate ending to his life, but just looking at this guy you kinda figured that's how he'd go out. I would try to express why I loved Ivan Calderon so much, but instead I'll communicate to you through our universal language, baseball cards. View these and Ivan's awesomeness is apparent.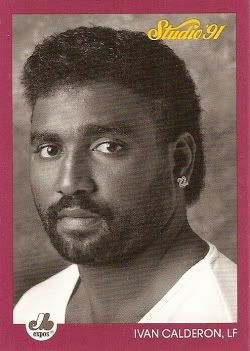 I know, I know.
3. Marquis Grissom
The poor man's Rickey Henderson. I was convinced that the combo of Grissom and DeShields was certain to lead the Expos to a reign of domination. Grissom went on to have success throughout his career in a number of cities, unfortunately Delino was not so fortunate. It's kind of amazing that players used to steal 70+ bases. I'm always a bit taken aback these days when a guy even swipes 30.
4. Dennis Martinez
El Presidente. A couple of things of interest popped out to me regarding Denny. 1. He had 245 career wins and never won 20 in a season, in fact he never won more than 16. 2. He was the last man to pitch to Kirby Puckett in a regular season game, the final pitch being one that broke Kirby's jaw.
Honorable Mentions:
Delino DeShields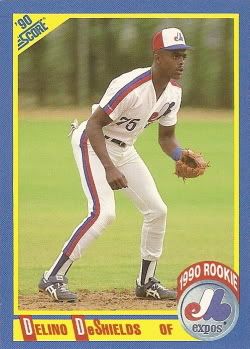 Sorry Dodger fans. I really though that Delino was the real deal in Montreal.
Pascual Perez
He threw the eephus. Enough said.
Tim Raines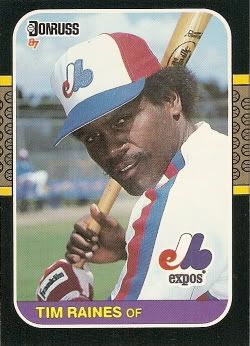 Rock deserved a place on the Fave 4, but I just couldn't squeeze him in. I mean did you see Ivan's chest. No one was bumping him out.
Andres Galarraga
It seemed like every stop after Montreal I liked Andres a little bit less. His comeback from cancer was awesome, but I like my Big Cat in powder blue.
Ryan Zimmerman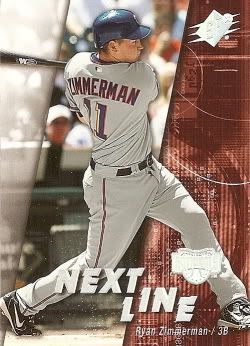 The token National. Good luck in baseball hell.
As opening day approaches the depression of no Expos will start to set in, but thanks to the world of baseball cards, they will always live on.
PS: Post #100 on I Heart Halos. Woo-hoo!
Go Halos!