For a lot of young baseball fans who grew up in the 80's, the Indians were little more than a last place team with a cool, yet controversial logo. For most of us, the most recognizable Indians were guys with names like Cerrano, Dorn, Hayes, and Vaughn.
It wasn't until the mid 90s that the Indians began to be not only relevant, but hugely popular among young fans. They were a young team full of budding stars and personalities. I was instantly hooked on many of them. I never could find a reason to like Cory Snyder or Greg Swindell, but these guys were likable and exciting.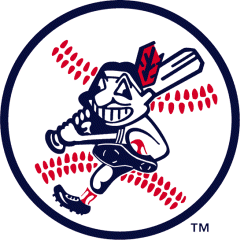 Since that time, the Indians have become a team I actively root for as long as they aren't facing my Halos. So here they are, my Fave 4 Indians.
1. Albert Belle
I know, I know, I know. I'm supposed to hate this guy. I'm supposed to rail against him for throwing a baseball at a fan, for running down trick or treaters, for being a surly a-hole. Problem is, I really don't care. I loved watching this guy. He had one of the most violent swings in all of baseball and was downright intimidating in the batter's box. His stare was legendary. I should hate him for his attitude and behavior, but instead I love him for the being the baddest mo'fo in baseball. I'm not sure where he would rank with the hardcore Indians fans, but for me he's an easy #1.
2. Kenny Lofton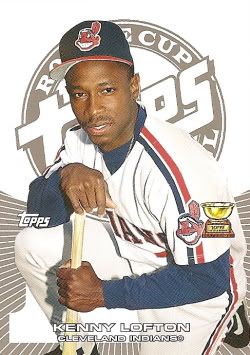 He was Willie "Mays" Hayes. OK, maybe not quite as much flash, but this guy was so exciting to watch as he flew around the bases. He was the perfect top of the order guy for those Indians teams that were just mashing their opponents into submission. It seemed like almost nightly he was bringing a homerun back from over the wall with ease. I remember being shocked by his trade to the Braves and then just confused by everything that followed, with his signing with the club as a free agent after the season and the Indians trading Grissom the same day. Definitely a guy with the smile that made you root for me, the exact opposite of Albert.
3. Grady Sizemore
Apparently the
ladies are quite infatuated with Grady
, so at risk of my manhood being questioned, I'll admit that I too am a fan of Mr. Sizemore. There's not much this guy can't do on a baseball field and as an added bonus, he came over to the Tribe with my boy Brandon Phillips. Easily one of the best trades ever.
4. Carlos Baerga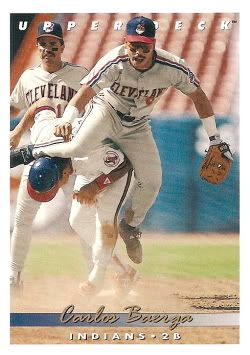 Baerga absolutely fell apart after leaving Cleveland, but while he was there, he was one of the more exciting middle infielders of the early 90s. I don't remember Baerga for any play in particular or a certain game, just that he was a switch-hitting second baseman and a lot of fun to watch in the field.
Honorable Mentions:
Julio Franco
Julio would have had a chance at this list, since he was about the only Indian I cared for in the 80s, but his inclusion on the
Rangers list
disqualified him.
C.C. Sabathia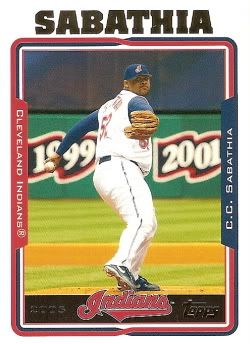 One thing was working against the rotund lefty, his current team. He most likely makes this list even after being traded to Milwaukee, mainly because I loved him in both places, but his signing with the Yankees just left me feeling queasy. I dislike the Yanks greatly and his signing there just reminds me of the Giambi signing, a guy who was free-spirited and fun, but will have the life sucked out of him in NY.
Manny Ramirez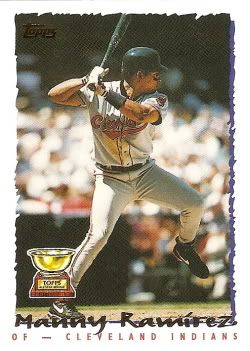 He'll make an appearance later, I'm sure of it.
So that's them. The Fave 4 Indians from my days as a baseball fan. A diverse, but highly likable group...as long as you're like me and don't mind players running over kids dressed as ninjas and baseball fans getting welts on their chests.
Go Halos!