I figured I better get the Tigers out of the way before the government decides to just retract Detroit from America and we are all reprogrammed to forget it ever existed.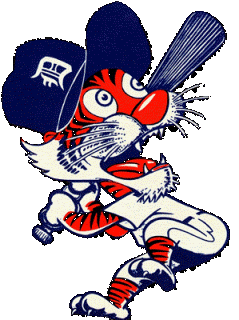 Detroit is one of those teams that falls right about in the middle for me. I don't remember actively rooting for or against the Tigers at any point. I do love the tradition of baseball, so I'm always happy to see when Detroit is at least competitive or relevant. So here we go, my Fave 4 Tigers from roughly the last 25 years or so.
1. Cecil Fielder
The man will never be nominated for Father of the Year, but there were very few players from the early-90's that caused you to sit on the edge of your seat and Cecil was without a doubt one of them. Some of the bombs he was hitting out of Tiger Stadium were just epic blasts and you often just sat in awe of what he was doing. On top of that, he had the heartwarming story of returning from Japan to become America's most feared slugger. Just an absolute beast. Added bonus, he was fat and I like fat guys.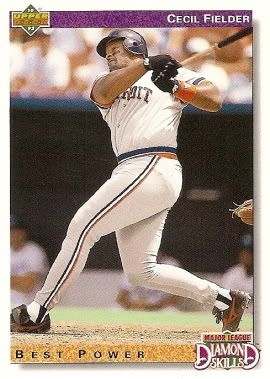 2. Curtis Granderson
There's not much to dislike about Curtis Granderson. He has an infectious personality, he's a player who makes it easy to root for him with his style of play and he's one of a dwindling number of African American players in the majors. Any guy who can hit 23 triples in a season and become the player to garner the most write-in votes in All-star history instantly begins to sniff my Fave 4 lists. To make it even better, Curtis and I are myspace friends. Be jealous.
3. Lou Whitaker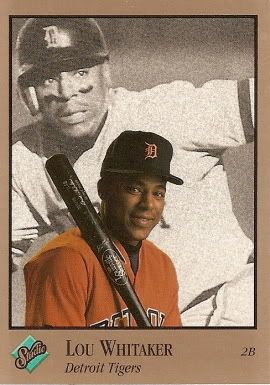 Lou Whitaker will always be synonymous with Alan Trammell, but while Trammell is in general considered to be the superior player and rightfully so, for me it was all about Sweet Lou. The '92 Studio cards say it all for me. Above we have Lou, looking smooth as always, below we have Alan. Awkward, odd hairdo and t-shirt that Detroit 9 year-olds were wearing around town.
Case closed.
4. Milt Cuyler
Ahhh Milton, what could have been. After a very solid rookie season, Milty just never could get it together again. I seem to have a soft spot for flash in the pan, speedy black outfielders and I'm okay with that. As a chubby white kid growing up in Texas I needed role models.
Honorable Mention:
Dmitri Young
I was hoping to find a spot for Young on this list, but the nostalgia of childhood won out in this case. However, this does give Dmitri a chance to make another Fave 4, since I am limiting players to only appearing on one list.
Go Halos!