As they American League Fave 4s wind down, I figured I'd finish off the AL West, sans Halos of course. My beloved will have to wait until the bitter end. The Mariners choices were pretty simple for me, outside of one player. The inclusion of a certain lefty pitcher meant that he could not appear on my Halos list and that was tough.
My couple of years of interest in the Mariners was all about 1 player, a certain fella that has just returned to Seattle to finish his career. Because of him, I spent a few years watching a lot of Mariners games and I was hugely behind Seattle during the playoffs when they knocked off the Yankees in 1995. Predictably, most of my favorite Mariners came from that era, as I have gained a bit of disdain for them over the past decade. I haven't been able to sink my teeth into the Ichiro years. I know I'm supposed to like Ichiro and think he's the greatest (singles) hitter of our generation, but I just can't do it. I'm just left cold by Ichiro and of course his being a constant nuisance to my team doesn't help.
So here they are, my Fave 4 for the team up north that almost stopped existing.
1. Ken Griffey Jr.
Really, could it be anyone else? I know there are a fair share of fans out there that have turned on Jr. or just never quite bought in, but I could never understand why. As a baseball fan and fledgling collector in the late 80's, Griffey was the man. I spent all of high school wearing the number 24 because of him and still consider him to be my favorite player of all-time, Halo or no.
Griffey's career is filled with what ifs. What if he had stayed in Seattle? What if he had avoided injuries? But in the end, he will most likely go down as the greatest clean player of the steroid generation. I expected A-Rod on some level, but if it came out that Griffey had used, the disillusionment I would feel would probably cause my head to explode.
2. Harold Reynolds
Pre-Griffey, there was Harold. The Mariners were one of the first teams I ever saw in person against the Angels and I was instantly transfixed to number 4. Harold Reynolds has become more well-known for his work in the studio over the years, but I still remember Reynolds as a really solid second baseman. Looking back on it now, he wasn't nearly as good as I remembered him, but that's the thing about favorite players, they're rarely as good as you think they are and it really doesn't matter.
3. Joey Cora
Apparently I have a thing for light hitting Seattle second basemen. Cora was the definition of the word "pesky".
4. Mark Langston
This was by far the most difficult inclusion. I love Mark Langston. It started in Seattle and it continued in full force in Anaheim. I want Langston on my Fave 4 Halos, but in the end, he fit too well on this list. I liked the Honorable Mentions that will be upcoming, but that's all it was, like. Langston was a guy I always enjoyed in Seattle and when he made his way to the Angels in 1990, I was stoked. He would go on to combine with Chuck Finley as a great lefty/lefty duo for years.
Honorable Mentions:
Edgar Martinez
Easily the greatest DH of his time, he's just another guy that kinda left me cold. He was a really good hitter, but he just lacked something. I'm not sure what. Personality, maybe?
Jay Buhner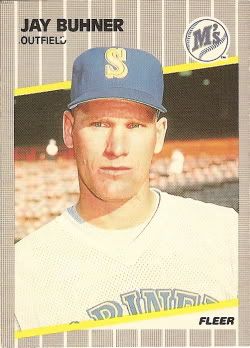 Buhner is a huge fan favorite in Seattle and although his inclusion as a Seinfeld punchline was amazing, he will forever be in Griffey's shadow for me. He had all of the personality that Edgar lacked, but I just never found him to be the player he was hyped up to be.
So the AL West is over and it was a good run. Despite these teams being the rivals of my Halos, they've all had a pretty good mix of players over the years that yielded at least a few likable players. Not sure if my team does the same for their fans, but that's no concern for me.
Go Halos!