Ahhh, the Red Sox. The team that went from tortured and somewhat lovable losers to annoying, incessant, always fawned over by ESPN winners. Up until recently, the Red Sox had the cursed stigma and for whatever reason it made them a fairly likable bunch. As an Angel fan it's hard to forget the 1986 ALCS, but somehow the pain is lessened by knowing what the Sox went through against the Mets.
When trying to come up with my Fave 4, I had some trouble because many of the players I had some affinity for ended up leaving the Red Sox and not quite being as lovable or talented. In the end, I think I ended up with a mix of old, new and odd.
We'll start with the man who most Halo fans would rather see in a ditch somewhere,
1. Mo Vaughn
Ahhh, Maurice. The Hit Dog. In the mid-90s, Maurice was an absolute beast and when he signed with the Angels, I thought I was in baseball heaven. It didn't exactly turn out that way. While he put up pretty solid numbers his first two years, he sat out the entire 2001 season and was eventually traded to the Mets for Kevin Appier. He is famous in Halo land for his falling out with the club and Troy Percival's statement that, "We may miss Mo's bat, but we won't miss his leadership". Mo went on to talk about how Anaheim had never won anything and there were no banners. He was right...for a few months until the Angels went on to win the 2002 World Series. So while Mo may be reviled by Halo fanatics, I still look at him as a pretty damn good Red Sox and one of the great strip club patrons of our time.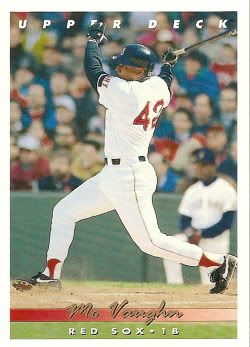 2. Manny Ramirez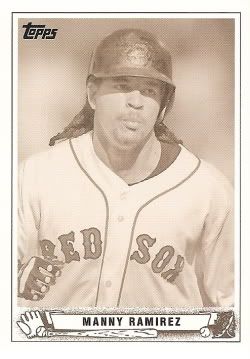 I know there are a ton of haters out there for Manny, but I truly believe this guy is the best hitter of our generation. There are very few players that I will not turn my eyes away from when they're up to bat and Manny is at the top of that list. He's quirky, he's odd, he's an adventure in the field, but he's also a hitting machine and a guy I would love to have on my side.
3. Pedro Martinez
The definition of a must watch player during his heyday. Pedro's 1999 season is probably the greatest pitching season I've seen. He was absolutely electric that season and probably deserved the MVP award over a *cough*juiced up*cough* Ivan Rodriguez. I'm not sure any of us truly appreciate how great Pedro was, not to mention how amazing it was that he did with a midget by his side providing comic relief at all times.
4. Oil Can Boyd
Dennis Boyd was never a spectacular pitcher like Pedro, but from the very first time I heard of Oil Can, I was hooked. It wasn't until years later that I learned that his nickname came from his drinking habits and that down south beer was referred to as oil. It was always part of the mystery to me. Best of all, was Boyd's quote about how Cleveland shouldn't have built their stadium on an ocean if they didn't want fog. Oh, simpler days.
Honorable Mentions:
Ellis Burks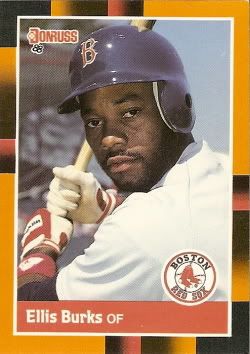 I was a big Ellis Burks guy in the late 80s and he almost nudged Oil Can out of the number 4 spot. His best seasons came later with the Rockies in the "rarified air", but I still have a stockpile of Ellis Burks cards from his Boston days.
Mike Greenwell
Part of the duo with Burks that was supposed to make Boston unstoppable. I always thought Greenwell would turn into a 30 HR guy, but he just never captured that level of stardom.
Nomar Garciaparra
Nomar had the fidgets, the high batting average, and at times the glove, but apparently not a lot of team spirit. I kinds felt bad for Nomar when Boston went on to win without him, but I guess he should have just shaved his damn head.
They've become an arrogant bunch in Boston, but there were once more lovable days. The Yankees are on the Fave 4 horizon and to say I'm torn is an understatement.
Go Halos!