Growing up for my early formative years in Texas I should have been an Astros or Rangers fan, but I just never could latch on to either team. Maybe it was because we weren't really that close to either team geographically, but I can't say for sure. I just know that I wanted to like both teams, but it just never happened.
My earliest Astros memories are from 1986 and their crushing defeat to the Mets in the NLCS. 16 innings that ended quite poorly for Astro fans, but especially for fans of Kevin Bass. I remember feeling so sorry for this guy who had a poor throw to home that allowed a run and struck out to the end the game with two men on. Poor Kevin, my heart goes out to him, but not enough for him to get a place on the Fave 4, that's exclusive territory and no place for losers...well maybe a few, but not you Kevster.
1. Glenn Davis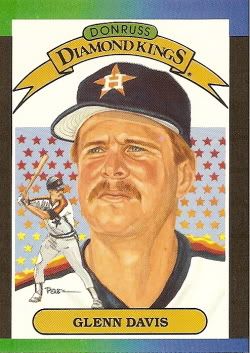 Sorry Orioles fans, I know this guy kinda sucked the life out of you with his injury riddled years in Baltimore. What makes it worse that you traded Schilling, Finley and Harnisch for the guy. However, in Houston the guy was a stud. 3 times in the top 10 for MVP voting and a second place finish in the ill-fated year of 1986. Davis was a legit power threat in a day when 30 home runs was a real accomplishment. I remember reading about his troubled upbringing as a child, which only earned him more respect from me. Interesting fact: The parents of Storm Davis adopted Glenn, no relation however.
2. Roy Oswalt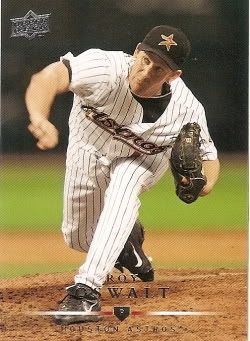 Oswalt is one of my favorite current day players and I love smaller guys like him who throw the ball with aggression and speed. I know Orel Hershiser earned the nickname "The Bulldog", but I must say this guy could easily take it away from him. Oswalt has yet to have a down season and has been a guy the Astros could count on since his rookie year. Oswalt also gets 2 card images today on the list, not because of his greatness, but because I'm starting to realize how much I under-appreciated the Bowman Heritage sets.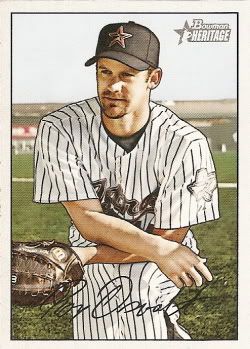 3. Jeff Bagwell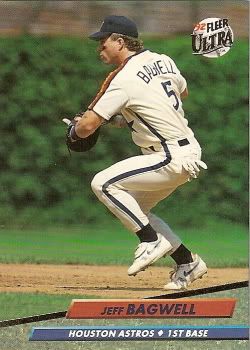 The third spot came down to a battle between Bagwell and Biggio and ultimately I discovered that I, like chicks, dig the longball. Bagwell was one of the more menacing white boys of his day. I hated to see the injuries bring his career to a close, but I was happy that he went out with class and didn't just attempt to hold on as a DH for the Royals or something. His 1994 season had potential to be historic and to top it off, the Sawx traded him away and forever regretted it.
4. Mike Scott
Once Mike Scott discovered the split-finger fastball, he became a wholly different pitcher. His 1986 season was historic for the fact that he struck out over 300 hitters and threw a no-hitter. At a time when I was becoming a huge baseball fan, he was maybe the game's best pitcher for a year. All that aside, the real reason he grabbed the number 4 spot, he always comes to mind when I think of this "Mike Scott", err Michael Scott.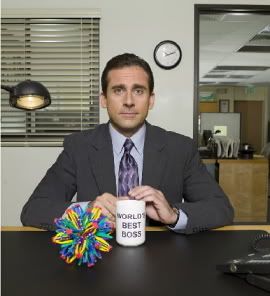 Honorable Mentions:
Craig Biggio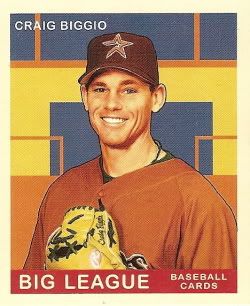 Just an awesome career and a guy who truly could do it all, moving from catcher to 2B to the outfield.
Jose Cruz
His son was a popular prospect and a decent player, but he will always pale in comparison for one reason, the leg kick swing. Epic.
Bill Doran
In 1986 he came in 11th in MVP voting. I swear, look it up...See, I told you so. I'm not sure why I liked Bill Doran so much, but I also don't know why he finished 11th in the MVP voting, so perhaps the man just has an ability to jedi mind trick.
Eric Anthony
I fully realize he sucked, but I bought in to the hype and refuse to let go.
Hunter Pence
One of the really good young players that I enjoy watching a great deal. He has a nerdy vibe to me, which mixed with his athletic prowess makes him fascinating to me.
Finally, a guy I should like because I keep pulling jersey cards and low numbered parallels of his, but I just can't root for him.
Berkman, I don't like you. I have no concrete reason why, I just know I don't. Each time I pull one of your jersey cards I just sigh and put it aside. Do something to change my mind this season, please.
So there they are, a list of way too many Astros for a guy who has never watched an Astro game and rooted them on. Amazing how your "formative" years have such an impact on how you view things.
Go Halos!