If you don't know what I'm doing,
click here
.
One thing is becoming very apparent as I make my lists and start working on this project, I like baseball players from 20 years ago a lot more than I like the players of today. I didn't really see this coming. I love watching baseball and it has remained my favorite sport throughout the years and I just figured the cross-section of choices would be wider. So far, not so much. I like players here and there, but I just haven't made the same connections. Maybe this has to do with being a much more die-hard Angel fan these days. It's almost made me insulated from the rest of the league.
This has proven true of the Rangers, a team that despite being from the same division as my Halos, is a team I've followed since living in Texas and who I still enjoy watching.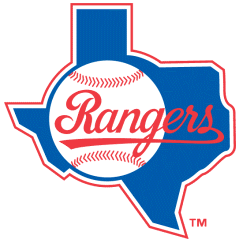 So here they are. The Fave 4 from Arlington, TX.

1. Ruben Sierra
Sierra is part of a group of players that I would lump together as "My first favorite players". Although Sierra moved on to play for a number of teams and win with the Yankees, he will always be a Ranger to me. He was the epitome of those early 90's Ranger teams, full of power, not speaking much English, and did I mention full of power.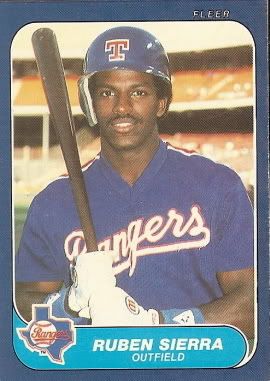 When I went back through my old baseball card binders I was a little surprised at just how many Sierra cards I had. I still think he got robbed by Robin Yount for the MVP award and that is probably one of the reasons you won't see Yount popping on my Fave Brewers list.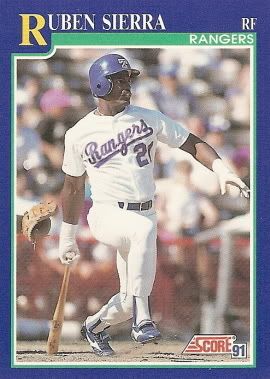 2. Julio Franco
The ageless one. It's weird to think that you once watched this guy when he was a young man. It's like finding out that your father watched Jackie Robinson play in person. One day I may be telling my daughter that I saw Julio Franco play...while he was in his 20's.
3. Pete Incaviglia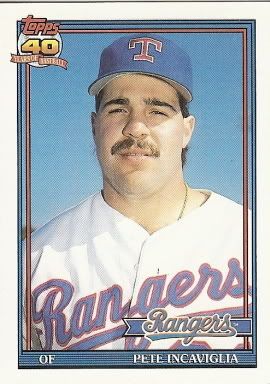 I have a soft spot for players who carry a little bit of extra weight around the middle. Incy certainly had a little bit extra and he played like it. He never hit as many home runs as you expected him to hit, but every at bat was an adventure. He just had the look of a guy who left the stadium after a Sunday day game and headed over to the softball field to pick up 9 more innings and a couple of 6 packs.
4. Geno Petralli
In the final spot comes a guy who probably isn't near the top of too many top 4 lists, but he landed in the spot with ease for me. His mustache alone is cause for celebration and instantly endeared him to me. He was a solid backup and decent starting catcher for a while, but definitely couldn't hold a candle to Pudge. Even so, I liked the guy. It's hard to explain, but for all the flash of Pudge, Geno was just sorta the good ol' boy who you had to cheer for. Had I not watched as many Ranger games as I did in Texas, I'd probably have no idea who he is, instead he lands here, a member of the Fave 4.
Honorable Mentions:
While Pudge was close and almost edged out Geno, another famous Texan was even closer.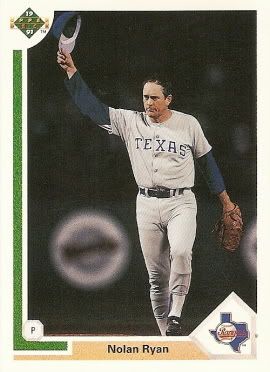 While Nolan almost made the list, he had one thing working against him, he was a former Halo and I'm still bitter that he ever had to leave. One of the great pitchers of our era and instead of wearing the Halo for years upon years, he moved on and that makes me sad.
So ladies and gents, there they are, the I Heart Halos Fave 4 Texas Rangers.