I can't stand the Braves. It started in the mid-80s with Dale Murphy, who I had to hear about endlessly on the Superstation TBS back when the Braves were horrible and it continued when the Braves began and sustained an amazing run of division championships. I take pride in the fact that I hated them before they were good, so it's not just that I'm jealous of their success.
Despite the "hate" I have towards the team of Native American ridiculers down in Atlanta, I had a pretty easy time picking a Fave 4. Only one of these players is one I really consider a favorite, but the rest have their charms. Dale Murphy will be found nowhere near this list, which just demonstrates that these lists are a bit unique in that it's all about the perspective of the fan.
1. Ron Gant
Ronnie Gant. Gant showed up in Atlanta during the worst of times and left just before the best of times. His ATV accident injury was unfortunate and probably left a sour tast in the mouths of many in Atlanta, but had no real effect on me. I still remember Gant as having biceps that were close to tearing out of his uniform and a really solid all-around offensive game. Gant would spend a few games late in his career as a Halo, but after leaving Atlanta he was never really the same, outside of a season in Cincinnati.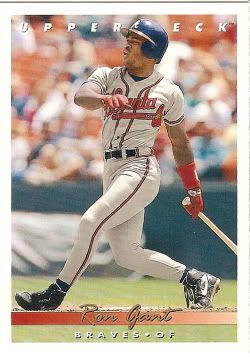 2. Jeff Blauser
This has little if anythign to do with baseball as I can't remember ever watching Blauser do anything that impressive, although I always appreciated that he wasn't Mark Lemke, the Lemmer, who I'm not so fond of. So why do I like Jeff Blauser? Because of Rich Hall and his sniglets of course. During the 80s Rich Hall was on an HBO show, Not Necessarily the News, and he coined the term sniglets for words that should appear in the dictionary, but don't. One of his entries that was always used around my house was "Blossor", which meant "the hair style one has after removing their hat". I was often guilty of rocking the Blossor and we always pronounced it like Jeff's last name, so he always held a special place in my heart.
3. Terry Pendleton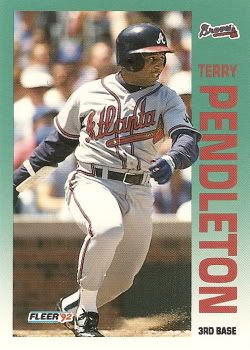 I have a fondness for chunky guys who can hit, so Pendleton found a place in my fanhood despite playing for a team I disliked. It doesn't hurt that he helped to keep Barry Bonds from another MVP award. I wonder if Cardinal fans absolutely hate this guy. He had some good years in St. Louis, but his last couple years were putrid and as soon as he arrived in Atlanta he just caught fire.
4. Deion Sanders
I know this will probably be an unpopular choice, but as a young teenager when Deion hit the scene, this guy fascinated me. He was never an icon like Bo Jackson for me, but he was still an impressive athlete. His 14 triples in just 97 games in 1992 was awesome. His speed was almost unrivaled in baseball and made for great entertainment. On top of it all, he pissed off Tim McCarver which is always a positive in my book.
Honorable Mentions:
Chipper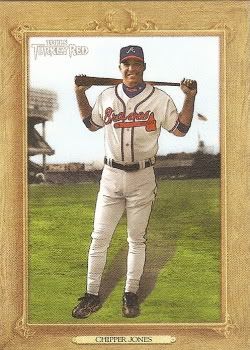 I used to really dislike Larry and much of it was irrational. Over the years I've come to appreciate his skill and last year I even found myself rooting for him in his chase to hit .400.
Greg Maddux
I was always bothered that Maddux left Chicago and had such great success with the Braves, because I would have loved for him to do it as a Cub. Even so, there's no denying what an amazing pitcher this guy is and how lucky Braves fans were to get to see him at his peak.
Otis Nixon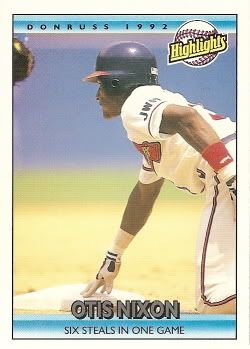 he appeared to be in his late-70s and consistently stole over 40 bases. His 72 in 1991 was pretty amazing, especially for a guy enjoying the Senior Grand Slam at Denny's
While my dislike for the Braves is nothing compared to my hatred for the Yanks, this was still a tough post. So many nice words about the Braves. *shudder* I'll just head back to sticking pins in my Dale Murphy voodoo doll.
Go Halos!