After a rather pedestrian Heritage box last night, I'm ready to get back into the groove of the Fave 4s. Up today, the first National League entrant, the Cardinals of St. Louis.
The Cardinals are a team that I've never been able to dislike. I'm a fan of the hats, I'm a fan of the uniforms, even the powder blue, and for the most part I like their players to at least some degree. Coming up with the Fave 4 Cardinals wasn't too difficult as the top few jumped right into my head. The only conflict for me, the former Halo factor. It is strong with this one.
1. Ray Lankford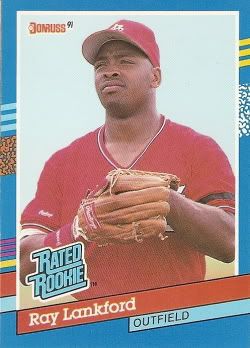 I'm a HUGE Ray Lankford fan. It started with his rookie cards in the early '90s and it continued throughout the decade as he produced consistently for the Cardinals. With over 200 homeruns and 200 stolen bases in his career, he wasn't the most powerful or speedy, but he did both pretty well. I always enjoyed watching him and just felt like Lankford looked like a major leaguer. To this day, I still have stacks of Lankford cards and binder pages filled with his cards.
2. Jose Oquendo
They get no better than Jose Oquendo, a man who played all 9 positions on the baseball field and once struck out Deion Sanders looking in a 17-1 blowout loss. I was always fascinated by this guy's versatility and it reminded me of playing little league. All of us could line up pretty much anywhere on the field and it wouldn't make much of a difference. Whether I was at 3rd base or Catcher, I was essentially going to play at the same level. Much respect to Jose for keeping it old school and doing whatever it took to be on the field.
3. Bernard Gilkey
When I think of my days watching the Cards, I first think of Ray Lankford, but then I think of the Nard dog, the man who was supposed to combine with Lankford in a young outfield and dominate the NL. It never really materialized as Gilkey was traded to the Mets and had his best season with them, but I will always think back fondly on the outfield of Lankford and Gilkey. Too bad right field was manned by guys like Felix Jose and Mark Whiten
4. Albert Pujols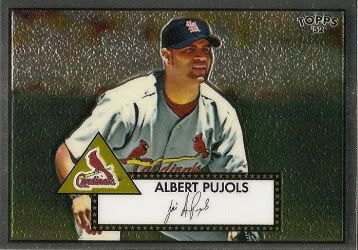 This guy is just an amazing hitter and I can't imagine not at least respecting the way he plays. I don't find myself actively rooting for Pujols, but I can't help but enjoy watching him at the bat. He may go down as the greatest hitter of our generation and I can only hope that the steroid stain that has become a part of so many players' legacy will not effect him as well.
Honorable Mentions:
The ex-Halos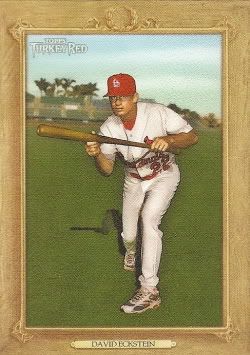 I was happy that both of this guys won a championship a few years back with the Cardinals, but the feeling was bittersweet. I always have a tough time with the players who have left my team, no matter what the circumstances.
Pedro Guerrero
I preferred him as a Dodger, but he did have a couple of seasons with St. Louis that stand out.
Ozzie Smith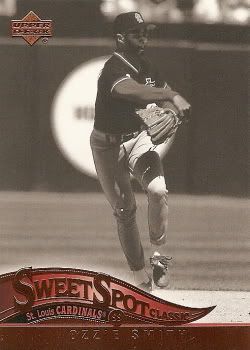 Ozzie will forever be one of those players that I respect, but just never made it into my heart. He was an amazing defensive player and certainly his home run against the Dodgers in the NLCS will never be forgotten by Cardinal fans, but I'm still amazed that he had 7 seasons in which he couldn't muscle even one ball out of the park. Kinda amazing.
One NL team down, a number more to go. The Cardinals will forever be Ray Lankford's team to me, no matter how many other Hall of Famers they produce. Lankford 4 Life.
Go Halos!