The Rays. From devilish and an afterthought to almost every baseball fan, including the ones in Tampa to America's Team and the darling of last year's playoffs. I'll fully admit that as soon as my Halos had their pathetic October 4 and out, I switched up and started to cheer on the Rays. It doesn't hurt that I'm annoyed by the Sox and don't have much on an opinion on the Phillies.
I remember very little of the early years in Tampa. I know they had a team, it constantly sucked, they often brought in past their prime players and Wade Boggs threatened to wear their hat on his Hall of Fame plaque. The story of the Rays changed drastically in 2008.
Along with the new logo came the results of a new organizational direction. The young talent finally started to play to their potential and Joe Madden, former Halo, took them places no one thought possible. Hell, most of us were still doubting them in August.
No surprise then that my Fave 4 Rays is littered with current players, unlike any other team on the list so far. I did sprinkle in one old school Ray, although I didn't own a single card of him in a Rays uni.
1. BJ Upton
I'm not normally the most sympathetic fella around, but I'll admit that I felt kinda bad for BJ Upton as he struggled to get to the majors, find a position and then perform, so I was definitely happy when he had his breakout season in 2007. Despite his fall off in 2008, BJ seems to be a legit center fielder and he's definitely becoming one of the most exciting players to watch at bat and in the field.
2. Scott Kazmir
Kazmir was a big part of my Fantasy Baseball championship in 2007 and for that, I will be forever grateful. A pitcher who is a lot of fun to watch and it doesn't hurt that each of his starts brings with it that moans and groans of Met fans everywhere. Kazmir continues to have injury concerns, but there is nothing quite like watching a power lefty mow down the Yanks and Sox.
3. Evan Longoria
The Golden Boy of baseball fans and card collectors everywhere, Longoria is already establishing himself as one of the game's best young power hitters. I hate that the Angels are gonna have to pitch to this guy for the next 15 years. The best we can hope for is that he had an infatuation with Madonna and he'll follow her off into the world of Kabbalah.
4. Quinton McCracken
How can you not love a guy named Quinton McCracken. He was, at least in my estimation, the best player of the inaugural Devil Rays squad and was unique for a few reasons. He was part of the initial draft of the Colorado Rockies and then was taken in the expansion draft by the Rays, making him a double expansion team member. He was the definition of a fire plug and basically the only Devil Ray I remember from those days for their service to the Rays, unlike the Boggs, Canseco and McGriffs of the team. Much love Q.
Honorable Mention:
Carl Crawford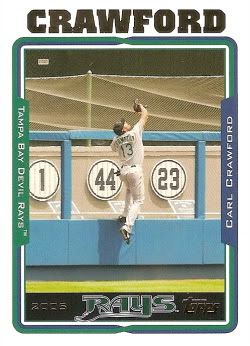 I really wanted to include Crawford on the Fave 4 list, but it just didn't quite work out. Crawford is definitely deserving of a spot and I really enjoy his play in the field and one the basepaths, but it just wasn't meant to be. Although I'll admit that finding out his middle name is Demonte almost pushed him over the top.
There they are, the Fave 4 Rays, plus one devilish little fellow. They were one of the easiest teams to pick Faves from because unfortunately there was a dearth of candidates. But despite the lack of viable Faves, they came in with a pretty solid list and I'm happy with what they had to offer.
Only the Yankees and Halos remain from the AL and then we'll be on to the NL, although I'll probably save the home team for the finale.
Go Halos!