It's that time again and today's recepient of the Fave 4 treatment is a team I have never rooted for. For some reason, the Orioles and I just don't mix.

I'm sure the fine people of Baltimore are a good lot and have reasons for rooting for this team, but they've just never captured me. What I think most angers me about the Orioles is the logo switch they made in 1989. The swinging Oriole was awesome. I hate the Orioles, yet to this day I want to get one of those hats. My other problem with the Orioles, well maybe all Baltimore fans should just turn away now.
Ok, I think they're gone., and if they're not, they will be after this. I don't like Cal Ripken Jr. I know, it's sacrilegious. How could any decent, self-respecting baseball fan not worship at the feet of the Iron Man. In my younger days I was definitely drawn towards flash and there was something about Cal that just left me cold.
So despite the misgivings of Oriole fans everywhere, I will go on with this Ripken-less edition of Fave 4s.
1. Melvin Mora
With the retirement and subsequent fading away of Ripken, I've found myself at least somewhat more interested in the Orioles and this guy is one of the main reasons why. I love utility players that do it all. Not just a guy who's a back-up middle infielder, but a guy who can play and excel anywhere on the diamond. This guy is impressive as a player and a person. His father was murdered when he was very young in Venezuela and his wife gave birth to quintuplets a few years back.
2. Mike Mussina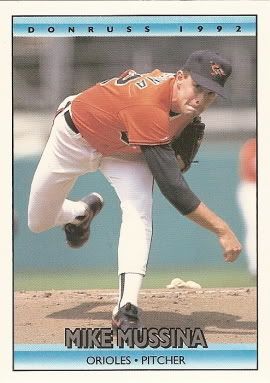 Although Mussina has gone on to wear the Pinstripes of Evil, I always think of him as an Oriole and easily my favorite. During the couple of years in the mid-90s when Baltimore would make it into the playoffs, he was the one player that consistently impressed me and made the three hours of Cal Jr. gushing bearable. Maybe one of the greatest pitchers to never win a Cy Young award, although I'll admit to doing absolutely no research on the topic.

3. Nick Markakis
While it seems like year after year the Orioles continue to make dumb moves, the drafting of Nick Markakis might be the best move they've made all decade. This guy is a stud and one of the few young players in the league that I look forward to watching against my team. His tools are amazing and his future looks extremely bright. However, if you're a Reds fan you have to hate this guy, as he twice turned down the Reds after being drafted by him.
4. Mike Devereaux
I can't really explain why Mike Devereaux made it into my Fave 4. He was never spectacular or even really stood out for the Orioles, but as soon as I made my list this week, he was the first name that popped into my mind. When I went searching for a card to scan in my box of commons, I found none. Instead, after 15 frustrating minutes, I found him in a binder of "Stars". Yup, you read that right, STARS. I can't explain it, but if he was good enough for me at 12 to be a star, he's good enough for the number 4 slot today.
Honorable Mentions:
Mickey Tettleton
His time with the O's was short, but I remember being fascinated by his swing and the way he hacked at the ball.
Chito Martinez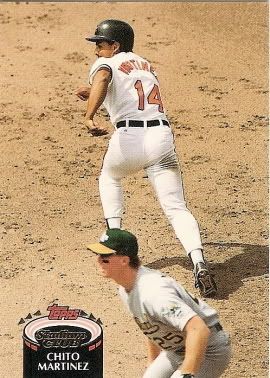 He had all of 111 hits in 3 seasons, but his play had nothing to do with his near inclusion. His name is Chito. My favorite snack food is Cheetos. At age 12 that's all it takes for someone to get stuck in your brain for the next 18 years.
So there they are, my Fave 4 Orioles of all-time. While I've spent years rooting against them, all it would take is a change in logos and a couple of more Moras and Markakises to make them palatable once again.
This weekend I'm hoping to churn out a few more of these and I'm even considering tackling the Brewers for
Dubbs at Cheese and Beer
. Then again, he may be the only person following this, so I need to keep him in suspense and coming back for more.
Go Halos!