For most of my Fave 4s, the first couple have been obvious to me and then after that I've had to think about the players that will fill in the last couple of spots and at times I've had to go back and forth between two players for the last spot. Rarely have I found myself with a list of 8 or 9 deserving players who I liked from a particular team. For some reason, the Toronto Blue jays fell into this latter category.
Although the Blue Jays were winning championships in the early 90s, I certainly never classified myself as a Blue Jay fan. I didn't have a problem with their success, but I wasn't bowled over by it either. The thing about the Blue Jays for me is that they are completely inoffensive. I've never rooted against them and because of that I've come to like a number of their players through the years. It helps that they play in the AL East and aren't the Sawx or the Yanks. That and the Canadians are generally a peaceful group who say funny things like aboot and eh.
After much deliberation and card searching, I came up with Fave 4 and it was definitely one of the most difficult of all.
1. Fred McGriff
It started with the infamous "Boner" card above, as my friends and I called it. It continued with the nickname The Crime Dog. But ultimately, my love for McGriff was born out of that prodigious lefty swing. McGriff is one of the most likable and easy to root for guys around. Although McGriff bounced around to a number of different teams, ultimately I remember him and most admired him as a Blue Jay.
2. Carlos Delgado
Although he came up as a catcher, Delgado has become one of the great power first basemen of the last couple decades. Delgado was one of the few players who kept the Blue Jays relevant for a number of years. He was a good Marlin for a year, a productive Met for the last few, but to me he was a stud Blue Jay and my #2 Fave.
3. Roy Halladay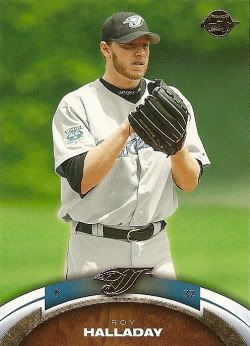 Very few current day players have made my lists for the team they are currently playing for, but Halladay is an exception. He is also one of the few pitchers who have made these lists. This guy is as good as it gets on the mound these days, a mainstay on fantasy teams and you've always gotta root for a Yankee killer.
4. Jesse Barfield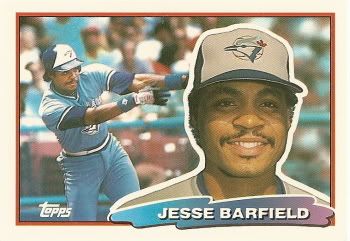 This was one of the toughest decisions yet and I'm sure as soon as I hit "Publish Post" I'll be rethinking it, but I'm ok with that. Barfield was a free swinger with power, but most amazing was that arm. He had an absolute hose out in the field and any time I watched him play, I was just praying that someone would test him. I've read and heard stories about Clemente's arm, but of course never witnessed it, so to me Barfield almost filled that role.
Honorable Mentions:
(They are aplenty)
Tony Fernandez and Roberto Alomar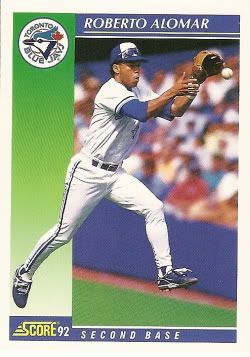 2 slick fielders who were traded for each other, along with McGriff and Joe Carter. Alomar was one of the great second basemen of our day and just missed making this list. Although I try not to let what players did with other teams influence my decision, I just feel like the end of his career was so unremarkable that I've lost some of the love for him.
Glenallen Hill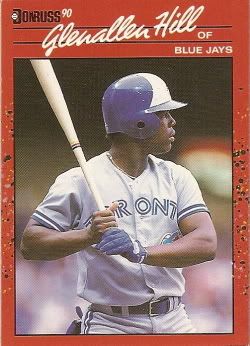 Spiderman. A terrible case of arachnaphobia, combined with what can only be described as tremendously poor defensive skills and pretty good bat, made Glenallen a guy I always followed.
Devon White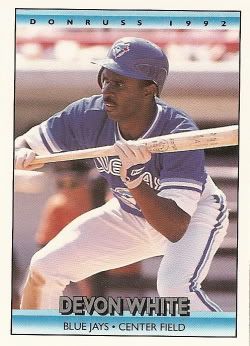 Devo, a favored Angel and a great defensive center fielder who showed off all his skills on the biggest stage.
Vernon Wells
Another current day player who I really enjoy watching. It started out when I drafted him onto a fantasy team in 2002 and he had a break out year. Since then, I've always followed Wells and wished him the best.
The list is extensive and I think I'm pleased with the rankings, but that could change at any moment. The Blue Jays definitely go down as one of the most inoffensive teams around and it's hard not to have a soft spot for the boys up in America Jr.
Go Halos!