The Pale Hose. Everytime I hear that nickname I can't help but think of scantily clad, pigment challenged ladies selling their services on the boulevard.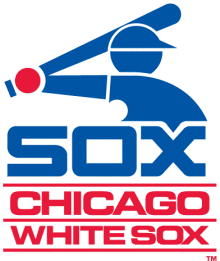 What does that have to do with my Fave 4, nothing. Just wanted to pass it along. The intro is brief today, let's get right to the action.
1. Frank Thomas
Can you imagine what this guy would have been like on steroids? For seven straight seasons the Big Hurt finished in the top 8 of the MVP voting, with back-to-back MVPs in 1993 and 1994. Thomas was another of those guys who I can't remember people disliking when I grew up. Even the haters had to admit that the man could hit like no other.
2. Lance Johnson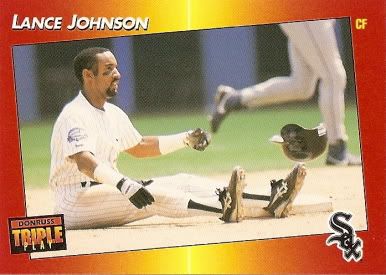 Sort of the anti-Thomas. While I loved Frank for his powerful stroke and enormous size, Lance was impressive for his ability to hit triples and fly around the bases. Although he had his best season ever as a Met, I will always remember him as a member of the White Sox. 5 times he led the league in triples. I respect that.
3. Jack McDowell
His run at the top was short, but spectacular. A second and first place CY Young finish, seasons of 17, 20 and 22 wins and a really sweet retro look on his 1991 Topps card. McDowell kinda seemed like a prick and I found the stories about his music career to be boring and annoying, but on the mound Black Jack had a run of studliness.
4. Oswaldo Guillen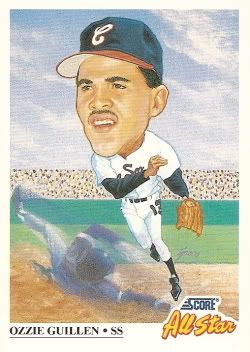 I know there's a lot of dislike for this guy these days, but I can't get enough of Ozzie. Every time he opens his mouth, you know it's gonna be juicy and interesting. As a player, I enjoyed watching him, but his managerial career and honesty to the press is what put him in the number 4 spot. The competition was a couple of journeymen, and Ozzie easily outpaced them.
Honorable Mentions:
Craig Grebeck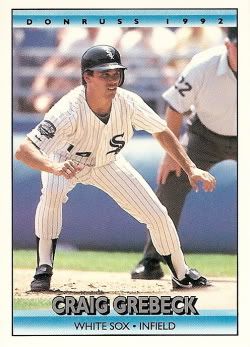 I like my underdogs, and he's right up there with the best. Despite being 5'7" 148 pounds, doing nothing especially well, Grebeck stuck around for 12 seasons and made more than 5.5 million dollars playing baseball. He spent one year with the Halos, but to me he's a Pale Ho.
Warren Newson
Another underdog, vertically challenged and a bit on the husky side, Warren Newson was the poor man's Kirby Puckett. Well, maybe the third world Kirby Puckett. Whatever, I like the guy.
While the Sox had a nice early 90's run, I'll never forgive them for the 2005 ALCS. Don't even get me started on umpire Doug Eddings.
Go Halos!