The 1991 World Series will forever be one of my favorite baseball memories. I was obsessed with the lovable, chunky outfielder who became a hero and I'll never forget being in my living room, cutting up one of mom's white towels and using red marker to write Homer Hanky. I was still in my formaidable fandom years and held no true loyalties. I did however know that I loathed the Atlanta Braves and wanted nothing more than for the boys down south to lose.
Maybe it's because of that, or maybe it's just because they've never been a team of me-first prima donas, but I just have a really hard time rooting against the Twins. Heck, I almost felt some amount of sympathy for them after Adam Kennedy's 3rd homerun during game 5 of the 2002 ALCS. So, as I started to compile my Fave 4s, I was not surprised to find a glut of Twins making it difficult for me to come up with just 4. Number one was a given and I almost considered taking the easy way out and making him my 2-4 as well. Instead, after many long hours debating with myself and looking at all the angles, I've come up with my Fave 4 for the Minnesota Twins.
1. Kirby Puckett
The card above will receive its own special post someday, as it was and remains as one of my favorite baseball cards ever. Kirby was an absolute hero to me as a young boy. I can't fathom how many 1988 Donruss cards I sent off to Minnesota in hopes that they would be signed. While I never received one back, Kirby will always be one of my favorite baseball players of all-time.
2. Torii Hunter
Torii moved up to #2 partially due to his current Halo-ness. I've always enjoyed watching Torii play and absolutely love the way he plays the field, not to mention his string of amazing odd-ball baseball cards recently. Watching him for a full season in 2008 was a lot of fun. He has gotten older and isn't the same player he was in his prime with Minnesota, but his attitude and all-out style have gone nowhere.
3. Dan Gladden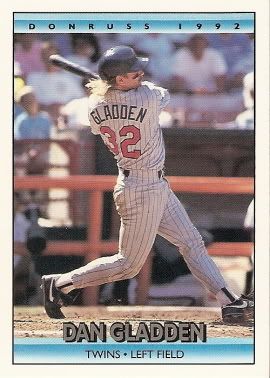 A lot of the reason for this choice is sentimentality, but Gladden was a pretty decent player for the Twins. The 1992 Donruss card above shows off the golden locks flapping as Gladden takes a hack. Above all, the image from the Sports Illustrated cover below spent years on my childhood bedroom wall. Dan Gladden will always stick out in my mind when I think of the Minnesota Twins.
4. Jacque Jones
I agonized over who to put in this 4th spot and while Chuck Knoblauch almost got the call, he was disqualified for helping the Yankees to 3 championships. As for Jacque, my first memories of him are with the USC Trojans in the College World Series. I was hooked at that point and he always remained a player I watched and enjoyed. He never did anything spectacularly, but you gotta admit he looks beyond smooth in that powder blue uniform.
Honorable Mentions:
The fight for spot 4 was intense and unfortunately a few had to fall by the wayside.
If Chuck had only become a defensive headcase a few seasons earlier he would have sewed up position 4, unfortunately he became a part of the Yankee machine.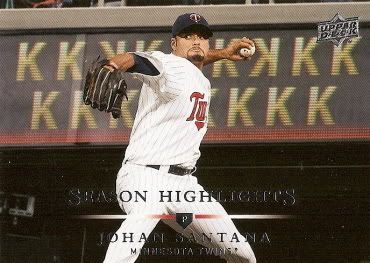 If Johan hadn't spend so many games mowing down my Halos and then bolting for New York, his chances would have improved ten-fold.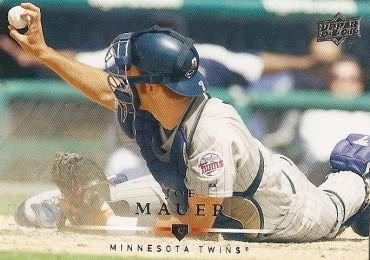 Mauer is one of the absolute best hitters in the game today and a lot of fun to watch with the stick.
The darkhorse. Shane Mack has no business among many of these players, but I can't help it. I'm a Shane Mack fan and I'm proud of this fact. Ask me to explain why and I'll stutter and stop repeatedly, but I am damn it!
So as the dust settles, 4 are left standing and it wasn't easy. Very few teams had this many players up near the top and it all started with that chubby center fielder who could do it all.
Go Halos!