I recently sent over a few cards to Greg at
Night Owl Cards
and he sent over a package loaded with great Angel cards and paraphernalia. The best part about these cards, the variety. Cards from the 70s to today and even a card that helped me to learn a bit about a favorite Halo from the past.
Here's a small sampling of the Astonishingly Awesome Angelrifficness.
My first ever 1971 Topps Angel card. I've always loved the design and look of this set and I'm so glad to actually own one now.
Greg sent over a few 1974 Topps Halos, but this was my favorite. Vada had some awesome seasons with the Reds early on in his career and a couple of non-remarkable seasons with California, but this a very fun action shot and I'm always a sucker for the horizontal shots.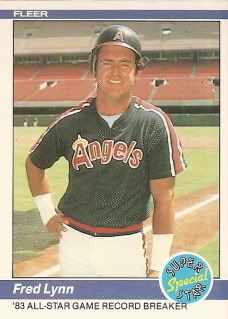 1984 Fleer Fred Lynn. Fred's got a nice chunk of hair sticking out his helmet here and on the back we learn just which record Fred broke. That would be the first person to hit a grand slam in the All-Star game. Night Owl the educator, but it doesn't end there.
Apparently, Chili Davis is Jamaican. I feel like I should have been aware of this. Thank you, Professor Owl.
Ironic that Schofield is pictured here with a bat as he was horrible with the stick, but a great glovesman.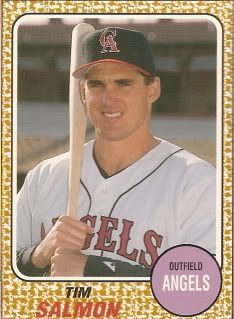 I love these! 2 of the more unique items sent along by Greg. Jim Abbott and Tim Salmon cutouts from Sports Card Magazine. Extra points for the Salmon card being an imitation of the Burlap design as Night Owl has dubbed it.
1987 Sportsflics Hitting and Pitching Leaders neat-o-ness.
And finally,
A 2009 Upper Deck John Lackey triple jersey. I love anything Big John related, but this triple swatch from Upper Deck is very nice.
Thanks again to Greg, who more than outdid himself on this package. I look forward to a Freeway Series in 2009.
Go Halos!