We are officially one month away from my daughter's first ever baseball game, April 9th in Anaheim vs. the hated A's of Oakland. Tickets have been purchased, my wife has secured her days off and I luckily will be on spring break. Needless to say, our little Halo loving household is all a twitter with excitement.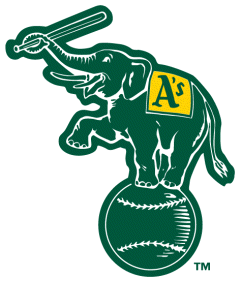 So with the big Angels/A's clash one month away, what better day for me to unveil my Fave 4 Athletics from the last 25 years. While the A's are a rival and a team I should hate, I do have some fond memories of them from the late 80's and early 90's. Back then the A's were the big boys on the block, led by McGwire and Canseco, but for whatever reason I was never as taken with those two as I was with a few other players.
This edition promises to be a bit early 90's heavy, but it does include one current Athletic.
1. Rickey Henderson
No matter the team, Rickey will forever be one of my favorite players to watch. At the top of his game, Rickey was virtually unstoppable. The A's essentially started most games with a one run lead because of the way he Rickey would open up games. The man was in scoring position when he came up to the plate, because inevitably he was going to get on first and swipe second with ease. Although he played for many teams, he will forever be an Oakland A to me.
Sidenote: I'm semi-obsessed with the Pro-Visions cards.
2. Dave Stewart
This guy was downright scary on the mound. Intimidating, a bad ass, an absolute beast with 4 straight 20 win seasons. Of course, the second he opened his mouth and spoke, he lost all of that. There are very few people with a voice less matching to their persona than Dave Stewart. Outside of the 4 20 win seasons, he was pretty pedestrian, but for that period I could think of no one quite like him.
3. Mike Gallego
As I made my way around that infield, I wasn't sure who would get the spot on the Fave 4, but evetually Gallego won out. He wasn't very good. I know that. But he had that little guy/underdog thing going for him and I do appreciate the glovework. Walt Weiss was nipping at his heels, but in the end, winning the Rookie of the Year and beating out my guy Bryan Harvey, in perhaps one of the worst rookie classes of all-time dropped him down just enough.
4. Justin Duchscherer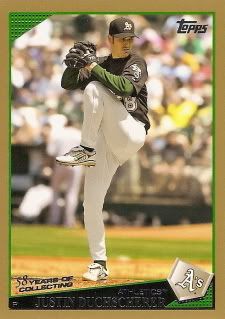 I've been following the Duke of Hurl for quite a while longer than I probably should have, because he went to high school in my old hometown of Lubbock, Texas. For that reason and that reason alone, I've been rooting for Duchscherer to do well. Twice an all-star despite having little velocity and spending years bumping around in the minors, Duchscherer is a guy that it's really easy to root for, even if he does throw against your favorite team more than a few times a season.
Honorable Mentions:
The above mentioned Triple W, Walter will forever be associated with beating out Bryan Harvey in my mind.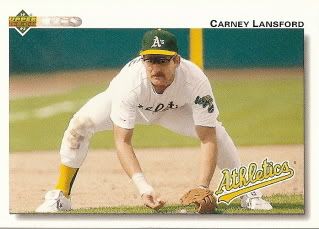 Killer mustache, solid hitter, former Halo.
Love the gap, hate the homerun in 1986. Screw you Hendu!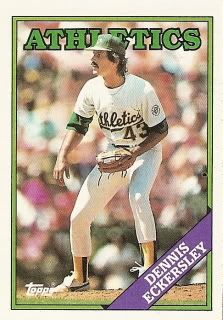 I was never that big an Eck fan during his heyday with the A's, but I really respect how over the years he never shrinks away from the Gibson homerun, but instead gives the man credit and respect.
There they are, the Fave 4 of a semi-hated rival. Hopefully Hailey will get to see her Halos destroy the boys from northern-Cali in a month.
And on a second sidenote, I finally have a
wantlist
. So if you want to get rid of some of your leftover crap and want to replace it with my leftover crap, let me know.
Go Halos!