What makes
Bip
Roberts the Babe Ruth of baseball cards? Well, besides the amazing sombrero card, it's the variety of amazing cards he has. Sure there are a few mug shots and random swinging cards that every player has, but it's that he has so many other action shots. Thanks in large part to his jack of all trades status, his fielding cards are actually a lot of fun to look at.
First, we have
Bip
turning 2.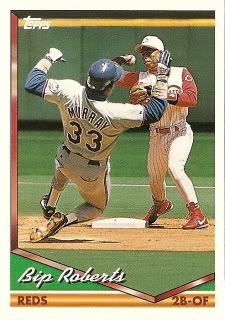 A sluggish Eddie Murray has no chance of breaking up the DP.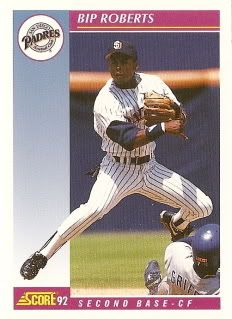 While he was casually turning 2 against the
Mets
, here
Bip
is leaping over the runner. Icing on the cake? Check out the extended
pinky
. The man does it with class.
He even
turns
two against other cardboard legends. We all remember salivating at the thought of picking up that '88
Donruss
Gregg
Jeffries
, but
Bip
is never star struck.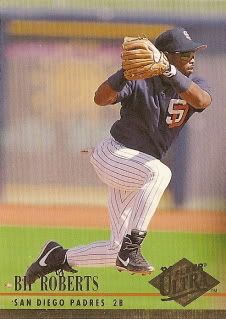 Finally, we have a
Bip
solo leap. Yup, he even gives it his all during a meaningless Spring Training games. Notice the evolution of
Bip
during his second go around with the Pads. Sunglasses and the pants tucked in. The man was on the fashion forefront from the beginning.
Second, we have the
Bip
chasing down pop-ups cards.
The determination is etched on his face, no hesitation as he calls off Hal Morris. The flip-up shades are
predictably
flipped up. The sun is no match for Bip.
Sure, anyone can call off a slug like Hal Morris, but now Bip shows the ability to drop back into the outfield. Flip-up shades, up. Oversized wristbands with Bip's likeness, in place. And for good measure the batting glove flopping out the pocket.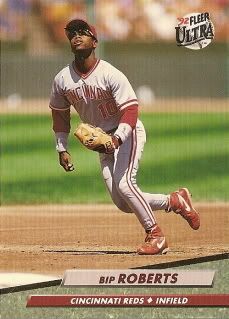 Finally, Bip dashes in to make one more play on a pop-up. The intimidation this man offered up in the field had to be good for at least one to two pop-ups a game. There's no way Tim Belcher wins 15 games without Bip roaming the dirt or carpet.
Finally, jack of all trades, it's Bip. In fact, shouldn't we change this term from jack of all trades to Bip of all trades. Just a suggestion.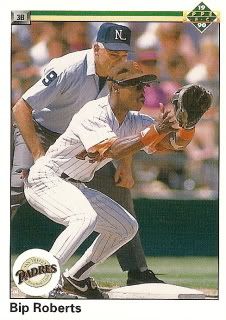 Bip even makes umpires look good. Imagine the joy at being Durwood Merrill and having your visage on the same card as the baseball card Babe Ruth. I've never even noticed an umpire on a card until these Bip beauties. (By the way, I have no clue what Durwood Merrill looks like, but Durwood is a really sweet name.)
I know what you're thinking, "For a Bip of all trades, he sure does play a lot of infield." Well, here ya go, Bip in the outfield.
Sure this is probably just Bip leaping for a line drive while playing second, but all I see is Bip, pure athleticism and green outfield grass.
And in case that wasn't good enough for you, Bip fades back towards the ivy at Wrigley. Sidenote, Bip's legendary cardboard status is only enhanced by this backdrop. The man even appreciates the historical aspects of baseball.
Lastly, we have the action shots that make Bip cards something special.
The turning 2 cards are beautiful, but what about the mundane plays that fill a game. This is what happens when you force Bip to play with a guy like Scott Livingstone at shortstop. Scott attempts to sail one past Bip, but the concentration, the high socks, the cartoon face on his wristbands...they all combine for a card of beauty.
Even late in his career Bip was making plays and cardboard history. The leap, the fall, every apendage outstretched. This is why Bip is a God.
The man even makes fielding a bunt into a piece of collecting history. Gotta love the barehand pickup. This should be a standard shot for all baseball card sets. At least one barehanded pickup per 300 cards.
Huh? Are you serious? A card of Bip tossing the ball towards first during the between inning wamr-ups? Yup! This is the genius of Bip cards. The average eye sees boredom, but the true collectors and cardboard appreciatists see what made this guy the best. The dirt caking his uniform...chance are it's only the third inning, but Bip played all out and this card shows you the aftermath. Not every card needs to show a head first slide to display what a player is all about. However, the head first slide cards are pretty cool too, and they'll be featured soon.
Soak in the Bip.
Go Halos!