When I lived in the middle of Texas there was almost never any excitement when it came to pro athletes. Maybe a kid who went to Texas Tech would get drafted and be back in Lubbock for some reason, but that was the extent of it. So when I moved to southern California, I was shocked when my mom showed me an ad in the paper that said Mike
Scioscia
would be literally down the street at Howard's TV signing autographs. Still to this day Mike is loyal to Howard's and still endorses the King of Big Screens.
I was at first stunned and then just sort of in a state of disbelief. I pawed through my box of 1991 Upper Deck and quickly found the card I needed. My dad took me down to Howard's and I was expecting a mob scene. I mean, a major league baseball player, a two time All-Star was going to be signing autographs, pandemonium would surely ensue. Well...not exactly. I stood in a line about 12 deep, quickly moved to the front and found myself in front of the Dodger catcher. I handed him my card and a Mike
Scioscia
/Howard's plush baseball that was handed out and watched as he gripped his BALLPOINT PEN and signed away. He had a few nice words to say and laughed at my wearing an Angels hat and then moved on to the next person.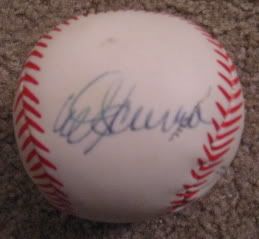 As for the card itself, a pretty sweet picture of Mike gunning down a Red at second base, or more likely not throwing out Billy
Hatcher
as Barry
Larkin
looks on from just outside the
batter's
box. To the best of my detective skills, this appears to be the
June 3rd, 1990
game between the Reds and Dodgers. A game in which
Scioscia
entered late only to have two players still bases off of Jay Howell. The photo is a typical nice action shot from Upper Deck and as you can see, Mike's ballpoint signature is still holding up to this day.
So why does this card define me?
1. This was a huge time in my life. For the first time, I was living where the action was when it came to major league baseball. My parents would often take me down to the Big A for games and in the small city I lived in, a player like Mike Scioscia would actual come to sign autographs. We didn't exactly have a Mean Joe Greene moment or anything and I can recall very little from the encounter, but it still resonates as such a big moment in my life when I think back on it.
2. This was only my second card that I was able to get signed in person. My first will be discussed in a later post, but to me this was exciting. Little did I know that this would someday be the guy to lead my favorite team to its only World Series victory in history. This card and its ballpoint scribbles will forever hold a special place in my heart.
Go Halos!