Hailey, collector of all things baseball card like.
My collecting addiction really began to kick up again at the time of the birth of my daughter. I've never been accused of being the most mature fella around, so maybe this shock of responsibility led me to revert to my childhood passion. From very early on, Hailey was all over the wrappers she found on the ground and enjoyed the crumpling of all that shiny. I knew I had a future collector, much to wife's dismay. Did her overgrown child really need a partner in crime? Shouldn't her daughter be more passionate about ballet than short prints?
Hailey has always been after my cards, whether snatching a couple from my desk or just asking what they are. Whenever she is at a restaurant like Chili's with cardboard like coasters, she grabs them all and calls them her cards. So, with a couple of weeks off from work and Daddy with some much needed time to organize a couple of sets, Hailey's collection was born.
She watched as I filled my binders with '07 and '08 Masterpieces, she echoed "Ahh crap!" as I realized I was three cards short of the '07 set, despite having triples of a few cards. And that's how it happened. In her sweetest, knee buckling voice, "Can I have some base-ah-ball cards Dada?" I melted and my triple instantly populated her collection.
Instantly she began laying them out in a long row and counting them over and over again. After that she wanted their names and eventually their teams. After a couple of weeks now she knows the name of every player and even knows the teams of about half of them. She quickly had a favorite...a Met...allow me a moment to sigh. It's not that I even dislike the Mets or her new favorite player, but I was hoping her lone Angel card might be her favorite. Unfortunately Jered Weaver was the Angel and my daughter likes her young men more clean cut, less shaggy.
So there it is, my daughter's favorite player, for now, is David Wright. She instantly wanted another David and I was all too happy to oblige. In the span of a couple of days she was already becoming a player collector.
But of course, it didn't end there. She instantly wanted more cards. Every time she made it around my cardboard she was asking for a new card. Just like that, she wasn't just a player collector, but now she was an, "I want it all and I want it now collector". She truly is my daughter.
So here it is, her current collection:
I love going through my cards, but it's a whole different world going through her cards. Watching her take great care of them, lining them up, naming the players and telling me that every player plays for the Angels. Apparently Arte Moreno has some moves to still pull of this winter according to my girl.
Of course no collection would be complete without a centerpiece, that was found in a box of commons from the early 90's.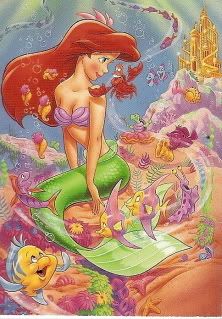 Hailey: "Oooooh, it's Arielle!!! What team does she play for?"
Me: "Uhhh" (stammering and trying to think of something clever.)
Hailey: "I think her team is the ocean!"
A more organized collector and smarter than her father. She makes me proud.
Go Halos!