In an earlier post I explained why you'll be looking at these cards, check it out here -
I Have a Confession
My look back at the 90s for the first time (not sure if that makes sense) begins with Jim Edmonds. From 95-98 Jim had 4 great seasons for the Angels and his glove as much as his bat won over the fans. Although he's now better known as a Cardinal after his trade for Adam Kennedy in 2000, he still holds a place in my heart.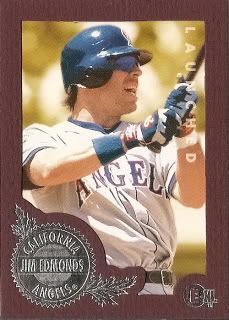 I'm not gonna pretend to know what this card is. To the best of my detecting skills I believe it's a 1996 Fleer E-XL.
Where to start with this "beauty"? The raised border with its semi-rough texture reminds me of the current Masterpieces cards, without the classiness. What really mucks up this card is the flowery, foily silver stamping of the team and player name in the corner. Topping off the card is the word "LAUNCHED" written down the side. Being unfamiliar with this set I don't know if each player had their own word or if there were 20 words spread throughout the entire set. I don't want to like this card, but everytime I look at it, it grows on me a little bit.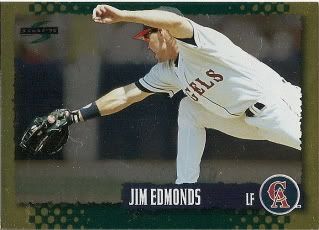 Next up, 1995 Score...it's shiny.
I'm used to my Score being pretty simple and definitely not shiny. My last experience with Score was probably 1992, the cards were shine-free and fairly plain, but I'm ok with that.
As for this 1995 Score, I love the image. Jim Edmonds, future Gold Glove center fielder making the stretch at first base. As for the green and gold border...I guess an A's fan probably loves the look of this set, but the rest of us are left with cards that just don't match up.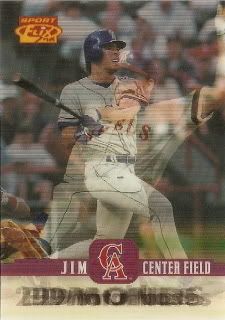 For the final card of the night, I had to go Sport Flix. Are you kidding me? How the hell did Sport Flix survive or get resurrected for a card in 1996? I remember only being able to find packs of this when I was a very young lad on vacation in a tiny Nebraska town where my Great Uncle lived. While they gave me hours of headaches, I was kind of into these cards, but I quickly gave up on them. As for this Edmonds card, the images are pretty nice. One of Jim after contact and another sliding into home. But what were they thinking with the wording at the bottom. First we have Jim (Angels logo) Center Field under the picture and then in true Sport Flix technology, they decided to have Edmonds morph into "299 Total Bases". Uhhh, thanks for the pointless stat. Luckily it only took me six minutes and two advil to read that. Wow.
So there you have it, My Introduction to the 90s has begun. More will definitely be on the way, including what is now the centerpiece of my Jim Edmonds collection. You won't want to miss it.