I have a few 1992 Leaf cards in my collection, but I don't remember really opening any packs of this stuff long ago. An odd trend showed up in this pack as I flipped from card to card. The "magic" of the '90s was revealed.
The pack started innocently enough.
The black card with gold foil is apparently a one per pack parallel. Not often that you see a speedster with DH as his listed position.
Next up was a card that left me a bit puzzled.
I didn't even realize Gary Carter had a final run with the Expos. Was all of Canada clamoring for this move to be made?
Here's where it got interesting.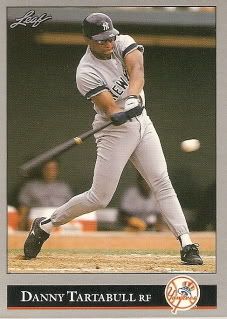 I had pretty much forgotten about Danny
Tartabull
after all these years and as soon as I saw this card I immediately wondered how this guy escaped the Steroid Era wrath. It was an odd thought that popped into my head, but it became even more odd a couple of cards later.
This is how the pack came to an end.
Are you kidding me? I don't know how the
McGwire
card didn't make it into this pack. It's probably stuck to the back of the Alex Cole. Sosa, Bonds and
Canseco
. What are the odds on pulling perhaps the three most notorious players from the steroid era in one pack of 1992 Leaf? Amazing pack!!
Finally, to turn up the insanity one more level...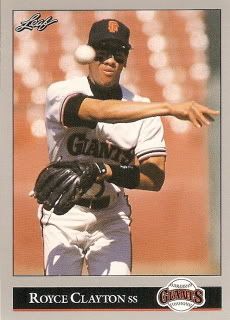 Royce Clayton? Yeah, I know what you're thinking, "What does Royce Clayton have to do with the steroid pack?". Clayton's wife was a former Olympic sprinter and in 1993, Royce was a vocal proponent of
MLB
instituting steroid and
HGH
testing. Are the hairs standing up on the back of your neck too?
Go Halos!