When Stadium Club made its return, I was excited like many others, but found the price point to be ridiculous. I realize that there are many collectors who can shell out the money, but I'm just not that guy. So, with packs going for 25 bucks a piece, I decided to see what I could pick up on eBay for roughly the price of 2 packs. I was lucky to find a seller that had a ton of cards up and combined shipping. Because of it, I came away with a haul that I'm happy with.
Obviously my pickups were going to be skewered towards Angel players, but one Dodger did slip in. Obviously an A's fan wouldn't be too thrilled if this is what showed up in their packs, but it's a gold mine to me. For just barely under $40 delivered, here's what I came away with.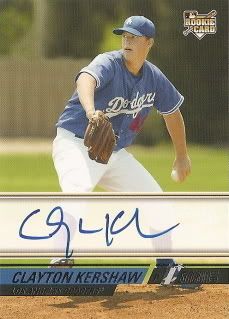 Clayton
Kershaw
#176 Autograph
I've sort of always been a closet Dodger fan. Growing up in Texas and only going to games when I came out to visit my grandpa in California, meant I saw a lot of Angel games and a couple of Dodger games. So while many of the
diehards
up in Orange County may not like it, I've always followed the Dodgers, at a bit of a distance.
Kershaw
is a young guy that has the potential to be a stud, plus he's a fellow one-time Texan.
Nick
Adenhart
#164 Photographer's Proof Autograph /99
Here's the guy I hope becomes the Angels young stud, but his ERA of 9.00 in a short stint last year, combined with numbers that haven't exactly lit the Minor Leagues on fire lately, have me a bit worried. Not sure what the point of the "Photographer's Proof" cards is. An annoying strip of blue foil combined with blue foil lettering...what an amazing upgrade, we should give it a serial number!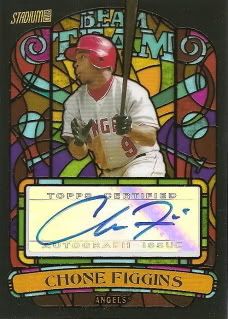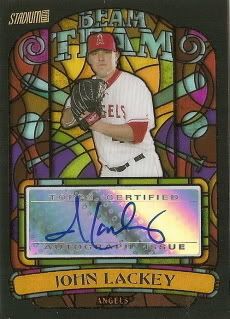 Chone
Figgins
and John Lackey Beam Team Autographs
These really are pretty cards. When my wife actually takes the time to look at a card and admire it, you know the company has done something right. I hadn't realized there were variations of these cards until I pulled an Adrian Gonzalez Gold version out of a blaster. I had seen the colorful "base" autos and I was sort of underwhelmed by the scarcer Gold. The card just doesn't pop like these two do. Very cool cards.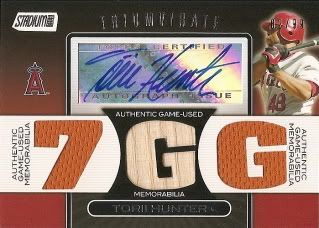 Torii
Hunter Triumvirate Autograph with 2 Jersey pieces (All-Star Game) and a Bat piece.
I was shocked at how cheaply I was able to procure this card. I could do without the Orange of the All-Star festivities jersey, but I can just tell myself it's a really faded example of the Angels new red jerseys. These triple relic cut outs combined with autographs seem to have become somewhat common place, but for a guy who doesn't have very many in his collection, it's a pretty slick piece. I love
Torii's
signature on the card and it was definitely a pretty nice cap on the haul.
Although I'm still a sucker for cracking open boxes whenever I get the chance, there's no doubt that picking up the hits you want is such a better way to go.
Go Halos!