In my boredom and desire to pick up packs from my childhood, I bought a 9 pack lot of late 80's/early '90s junk. And when I say junk, I say it with no anger. This is the stuff I grew up on, like so many others and it holds a special place for me. Plus, I like opening really cheap packs filled with about 15 cards and flipping through them with the daughter. We had a ball, here are the results of the 2
Fleer
packs. 1990 and 1992.
1990
Fleer
may be one of my least favorite sets from this time period. There are essentially no memorable cards from the set, the design is bland, and the photography is not exactly top notch. The saving grace...Stickers!
This was by far Hailey's favorite part of the packs. She has quickly absconded with them and they are slowly showing up around the home. The first one I ran across was the Twins sticker on the laundry hamper in the bathroom. I'd really like to see a company bring back stickers to the base product. The Upper Deck holograms were always a highlight to me.
The next card is appropriate mainly because today is a special day.
Lemkepalooza

2009
has begun over at
Cardboard Junkie
.
I've never been much a Braves fan and I always kinda wanted to punch
Lemmer
in the face, but hey he was born in
Utica
, NY and I was born in Syracuse so we were basically neighbors until I moved to Texas 9 months later.
Next, a former Expos superstar.
A little baseball history for Hailey. I miss the Expos. Their stadium was hideous, I found watching their home games to be difficult, but I just can't get into the Nationals. As for
Grissom
, this guy was an absolute stud for a while. For a speedster, he hit a surprising 227
homeruns
.
1985
NL
MVP Willie McGee
Gotta love the contortion on this card. No disrespect for Willie, but he's not exactly the guy I picture when I think of
MVPs
of the past 25 years.
The Dual Prospect card of Matt
Kinzer
and Wayne Edwards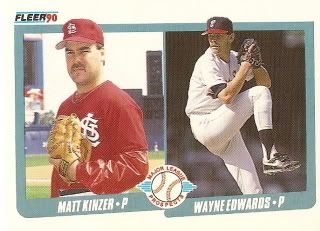 Kinzer
- 9 games, 0-2 record.
Edwards - 62 games, 5-5 record
A prospector's dream.
The rest of the pack:
472 Bill
Landrum
366 Allan Anderson
477 Rick Reed
510 Keith
Comstock
267 Mike
Boddicker
547 Steve Rosenberg
425 Rick Mahler
509 Darnell
Coles
75 Matt Williams
406 Willie Randolph
192 Jay
Tibbs
Now onto the pack of 1992
Fleer
, it was slightly less lame than the pack of 1990.
Super Star Specials Barry
Larkin
and Kirby Puckett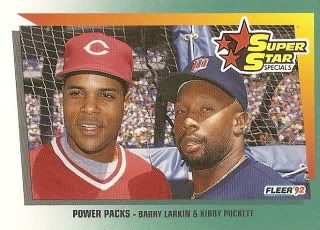 It's weird, when I get a card like this in base
Topps
, I cringe and think why would you pair up this "Classic Combo", but for some reason I love this card. Maybe it's just the nostalgia and looking back at two '90s stars that I really liked, but it just works. The modern Duo cards just never seem to do it for me. This card was a definite highlight to the pack.
Ellis Burks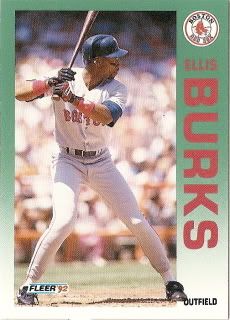 Although Burks had a really solid career, he always seemed like a disappointment to me. He was one of those guys whose cards I would horde away in my star boxes, expecting greatness and it just never happened. He had a couple of great years like 1996 in Colorado, but I thought he was destined to be a stud alongside
Greenwell
in Boston for years. Not so much.
Bo Jackson
Maybe my favorite
athlete
from my youth. This guy was just fascinating. His 1989 All Star
homerun
in Anaheim is still one of the coolest sports moments I've ever been a part of. Obviously the hip injury with the Raiders killed the momentum of his career, but I still remember being excited whenever he stepped to the plate.
Jim Abbott
How is this guy not a bigger legend? He pitched at a high level in the major leagues with one
frickin
' hand. I didn't even try to explain this one to my daughter. I just pointed out that he was an Angel and she was thrilled. He ended up 20 games under .500 in his career and certainly didn't live up to the expectations of the 8
th
pick of a draft, but the man was simply amazing.
The rest of the pack:
563 Joe
Redfield
232 Scott
Kamieniecki
405 Bill
Doran
659 Pat Rice (Prospects)
207 Gene
Larkin
342 Todd
Stottlemyre
437 Xavier Hernandez
440 Rob
Mallicoat
618
Bip
Roberts
191 Dale
Sveum
560
Llloyd
McClendon
459 Orel
Hershiser
620 Benito Santiago
Overall, the 1992
Fleer
cards destroyed their 1990 brethren. The nostalgia factor was high for 1992 with cards of Bo, Kirby,
Larkin
, Orel, Abbott and Burks. Plus my boy
Bip
Roberts showed up, always a treat.
Still left to come, 1989, 1990
Donruss
. 1992 Leaf. 1988, 1989, 1990, 1992 Score. 1986
Topps
League Leaders.
Go Halos!