He barely had 1,200 hits in a 12 year career. He played for 6 different teams. He played in more than 120 games only twice. He was essentially the late 80's/early 90's Chone Figgins. Not incredibly impressive stuff, but he was also one of my favorite players growing up. I was fascinated by his speed, his attitude and above all else...I think I was won over by his baseball cards.
This guy has without a doubt, the coolest baseball cards of any player. He clearly had a cousin or uncle working behind the scenes.
Almost everyone has seen the iconic Bip in Sombrero '96 Score card.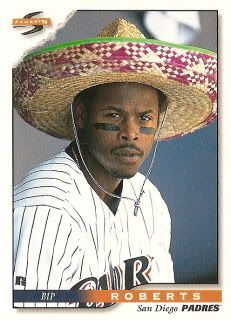 This is essentially the '52 Mantle of Bip cards. Despite arriving towards the end of Bip's career, this card defines Bip and his persona. Sure, you're thinking "the guys sitting on the bench wearing a sombrero, what a loser". But then you examine the card a little closer and you notice the intense stare, the eye black, the hint of passion spilling from his every pore. Bip is showing not only his desire to keep the club loose during a strike shortened 70 win season, but also the look that says, "Hey skip! The second you need me out at any of the 9 positions, I'll be there". You can have your '52 Mantle, I'll take '96 Roberts anyday. Unless of course you're actually offering up a '52 Mantle. At that point we could probably work something out.
Luckily for you, I have come across my Bip Roberts stash and you will be a part of the glory that is Cardboard Bip. In what promises to be a riveting look at the many sides of Bip, you will be treated to Bip on the basepaths, Bip in the field, Bip at the plate and of course Bip outside the lines.
Go Halos!