As the craptacular pack break winds down, we're looking at 1990 and 1992 Score. I'm a big fan of the 1988 cards, so I decided to save '88 and '89 for the finale.
First up, a Hall of Famer.
There's no denying how good Robin Yount was, but I've always held a grudge against the guy. In 1989 I really like Ruben Sierra and I was sure that he would walk away with the MVP, only to have some "old guy" from Milwaukee win it. Oh well. One of the best parts about opening up the old stuff is coming across the cards that take on a whole new meaning now. Then, he was a guy who cost Ruben the MVP, now he's a Hall of Famer and probably the greatest Brewer of all-time.
Next, a couple of rookies.
Hal Morris obviously made his mark with the Reds, not the Yankees and that's just another reason to like this card. I guess you could label me a Yankee hater, so I do enjoy the careers of guys who leave the Yanks and flourish. The one thing I remember about Morris is the way his feet never stopped moving when he was at-bat. Odd, funky and awesome.
A poory scanned Halo rookie.
Frist round pick...uggh. This is one of the many reasons that the '90s were not so kind to Halo fans. The best part about Orton? His career batting average of exactly .200. Take that Mendoza.
Dream Teamer Will Clark
These cards seemed sort of plain and boring to me in 1990, but getting one now I almost felt like it had an Allen and Ginter quality to it. The white border, semi-washed out photo/portrait and the colored background. Definitely a card I appreciate more today.
On to 1992 and Bone.
Buhner was one of the more enjoyable personalities of the 1990's. He put up some big-time power numbers from 1995-1997, but you have to wonder how many more fans he gained because of the exposure that Griffey brought to the entire Mariners organization. Added bonus, a former Yankee that flourished as well as part of one of the great Seinfeld sports moments.
Frank Costanza: What the hell did you trade Jay Buhner for?! He had 30 home runs and over 100 RBIs last year. He's got a rocket for an arm. You don't know what the hell you're doin'!
Steinbrenner: Well, Buhner was a good prospect, no question about it. But my baseball people loved Ken Phelps' bat. They kept saying "Ken Phelps, Ken Phelps."
The guy who wore his helmet in the field.
It's amazing to think that this guy reached base well over 3,000 times in his career and only stole 11 bases. I remember three things vividly about Olerud. 1. He wore a helmet in the field after suffering a brain aneurysm in college. 2. He was incredibly slow. 3. When he was with the Mets he did that thing where he kinda held runners on, but really played the field, but...well I still don't really understand it.
Awesome Halo card.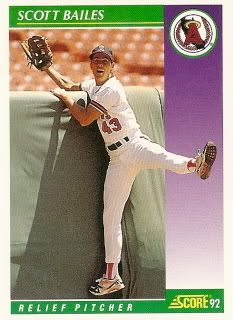 This guy was putrid with the Angels, but you gotta love the pose on this card. It's tough to beat the relief pitcher, in his sneakers, acting like he's making a leaping catch to rob a home run card. This will find a special place in the Halo binders.
Finally, a BEAST.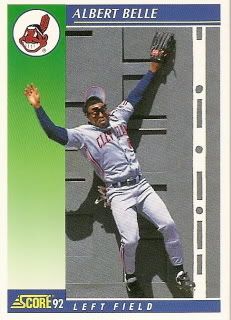 This guy had one of the better 4 season offensive runs of any player I've ever witnessed. The menacing stare and attitude of Joey, errr excuse me, Albert Belle was one of the best parts about watching him play. I would have hated having to stand 60 feet 6 inches away from this guy and toss a ball in his direction. On top of that, this card is awesome. Albert slamming up against the Monster, hat flying off, sunglasses flipped up and body askew. For a set with an only decent design, this card looks great.
2 more packs away from the end of the Craptacular Pack Break.
Go Halos!