While the fielding cards were exciting, it's time to move on to Bip on the Basepaths. Again, with Bip it's not just about one or two cool cards, but a plethora of amazingness. Today we examine Bip doing what he does best, terrorizing the opponent with his speed.
I'm not sure if this is an official stat anywhere, but I'm willing to bet a pretty tidy sum that no one has more "diving back on a pickoff throw" cards than my man Bip. Don't worry, there are even a couple of more examples to come. While the pickoff throw may be the most boring moment in baseball, sure to incite boos from the liquored up fans, there's something about a Bip dive back that was so enticing to photgraphers over the years. Here we have Bip in throwback brown and orange and the more stylized blue and orange of the Padres.
Finally, Bip on the run. Why is the card worth a crap? Well, Dodger Stadium, division rival and check the socks. Yup, Bip keeps it old school and wears actual stirrups. Classy, Bip, classy.
Third base stolen at Riverfront. What's not to love about this card? Caked in dirt and that's an accomplishment when 95% of the stadium is covered in carpet. He's got the down on one knee pose that has to make the ladies swoon. Just imagine the poor young gal on the third base line wishing Bip were staring into her eyes at that moment. And you know I love the wristbands.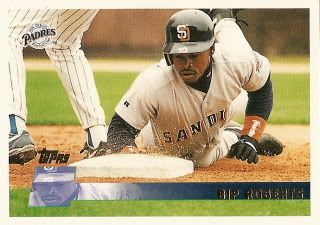 Now it's to go horizontal. Bip on the dive back...again. This is one of a few Bip cards that took place at Wrigley. It seems like you always see cards taken on the West Coast or at Yankee Stadium, but not as much at the Midwestern stadiums. It's Wrigley, it's the 90's, I'm assuming that's Mark Grace at first, so Grace fans can add it to their collections like
Bay Rat
.
"Enough with the dive back cards!" Not so fast my friend, this card is a gem. Not only is a sweet photo with the dirt kicking up, Bip isn't just diving back into first, that's a dive back into second. All pitchers quaked in their stirrups when Bip began the lean towards 3rd. Gotta love the uniqueness on this common Bip shot.
Another beautiful example of why he's the Babe of the cardboard world. Double exposure always adds to the fun, but there's something else that just isn't right here. The chainlink fence in the background suggests that it's a Spring Training game, but it goes deeper than that. The catcher appears to be wearing the same exact uniform as Bip. Is this a frickin' intrasquad game?! Did the Royals run out of opponents and decide to just play one another sandlot style? And if so, why the hell is Bip going all out and sliding in hard at home? This is what seperates Bip from the pack, not only as a player, but as a cardboard icon.
Go Halos!
Ahhhh!! In all the Bip related excitement I forgot perhaps his most well-known diving back into first on the pickoff throw card.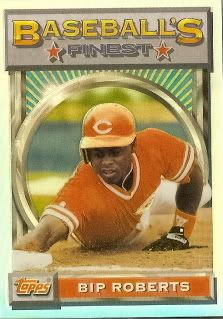 I apologize for the hastily done, crooked scan, but this was a must.
1993 Finest Refractor.
Bip in all his rainbowy, shiny, diving back in head first glory.