I know a lot of baseball card purists like seeing the stats from every season of a player's career on the back of their cards and while I certainly can appreciate that, it doesn't do that much for me. Especially in this
internet
age where
baseball-reference.com
is at my beck and call. So what do I like in my card backs, I like pictures, wacky pictures. No one did this better than Upper Deck. Wacky pictures on the front are great, but I prefer my hardcore baseball action on the front and a lighter side on the back. I have a huge stack of these cards sitting on my desk, so I scanned a few for your enjoyment.
First up,
Murph
.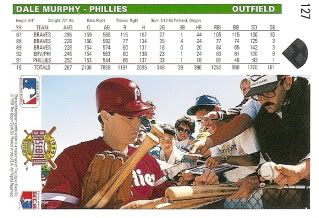 Dale Murphy is the case for a guy's career stats being on the back of his card. He had a number of great seasons that new collectors at this time might not have been aware of, but I like that his card back has a picture of him signing autographs for a number of
sheisty
individuals who will certainly be turning right around and selling this stuff.
Another nice autograph card back, Dave
Stieb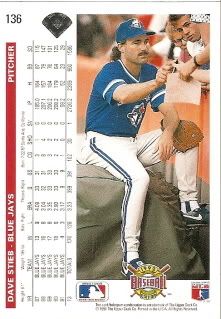 Gotta love
Stieb
just relaxing on the tarp at the Big A, signing some autographs with sweet mullet in tact. You gotta wonder if the kid on the back of this card has a stack of them sitting in a shoebox somewhere.
Some card backs are fun for different reasons, like this Ed
Sprague
card.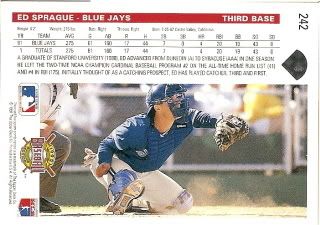 Although
Sprague
was initially a catching prospect, he made his mark at third base and the front of this card shows Ed creeping in at third. The card even lists his position at third, but there he is on the back, full catching gear, behind the plate. Not as exciting as our next card back, but still fun.
This is one of my favorite card backs I've come across recently. Scott Ruskin.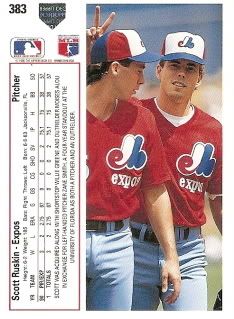 While Scott certainly didn't have the most distinguished career, he should be a part of the Card Back Hall of Fame. I can't figure out who the
doofus
is next to Scott, but Ruskin is clearly owning him right here. There are very few moves in history that rival the bunny ears in a picture. Scott, you now have a place in my collection for eternity.
Finally, the
Hud
-Man.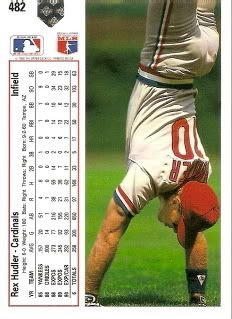 Hudler
is renowned for his
kooky
antics and off the wall behavior, that's why he is perfect for these type of card backs. A plain back with all of Rex's stats just wouldn't tell the story of his career the same way it would for Dale Murphy. Instead, a card back like this truly shows you what
Hudler
was all about.
As I come across more of these, they'll be going in my binders and up on this site to be appreciated by those of us who care as much about the back as the front.
Go Halos!