The late '80s/early '90s crap break continues. Part 1 with Fleer packs can be found
here
.
The Donruss packs included in this lot were 1989 and 1990. I also have a pack of 1992 Leaf, but it's steroidyness deserves its own post.
Starting off with 1990 Donruss because it was severely lacking. I've never been a huge fan of the red borders. They're just so jarring and the paint droplets make no sense to me.
What better way to start than with the Lemmer, since it's
Lemkepalooza
.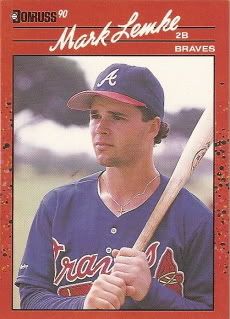 Still want to punch him in the face. I guess the positive is that I'm half way to the Lemke 1990 base card master set.
Although the steroidy post is coming later, Raffy still deserved a spot in the 1990 highlights.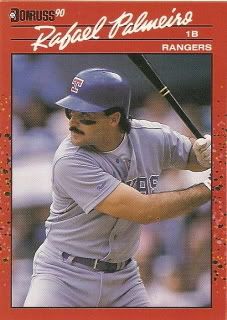 You can tell this pack was pretty bad since Palmeiro was the biggest star by far. Not that he didn't have a great career, it's just that he went out in such a blaze of shame.
No good or crappy Donruss pack is complete without a Diamond King.
You gotta wonder just how bad the 1989 Phillies were that their Diamond King for 1990 is Tommy Herr. Well, they were 67-95 bad. 6th place in the NL East bad. Personally, I think Von Hayes got hosed on this one.
The rest of the pack was pedestrian at best. I won't bore you with the details.
As for 1989, it was made amazing by one card and you can probably guess the card. And no, it wasn't a Luis Polonia.
First up though, 2 MVP cards.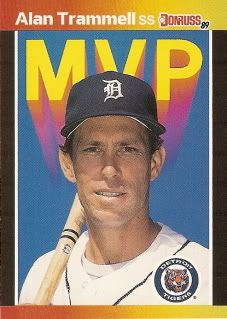 Alan Trammell was a classy player and deserves all the praise he receives. I always found him to be vanilla and boring, but I've come to appreciate those players a lot more as I age. As for Alan Davis, ehh. I could just never figure this guy out. The bonus is the back of this card where I learned Alan's middle name is Glenn. I wonder if Glenn Davis's middle name is Alan. That would be spooky.
Halo excitement. Bryan Harvey.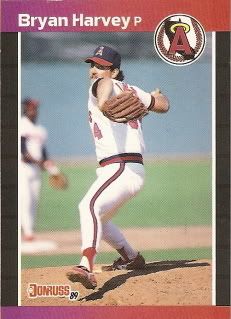 I was a huge Bryan Harvey fan as a kid. I can still remember my dad telling me how stupid the Angels were for letting him get away in the expansion draft. A year later I feared he was right when Harvey went on to save 45 games for the Marlins in 1993. Percy finally rescued me in 1996.
Lackluster Diamond King Alert!!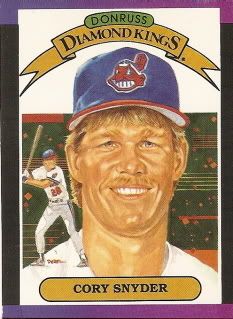 Maybe it was the hype, but most likely it was the mustache. I don't like you Cory Snyder.
Now for the saving grace.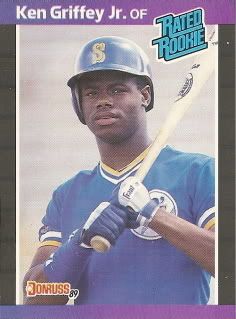 An absolutely beautiful card. I called this the saving grace, but in truth it was the first card in the pack below the puzzle, so the rest of the pack was just icing after pulling the Griffey. It was pretty much impossible to grow up during this time and not love Ken Griffey Jr. I was no exception. Although the Upper Deck rookie is more iconic and beloved, this has always been my favorite Griffey rookie. Something about the combination of colors and the way the Rated Rookie text color is mirrored in the jersey, makes this a standout.
My daughter Hailey was perplexed by the Griffey card. Until that point I had let her handle all the cards and lay them out to count them, but that one went immediately into my hand and away from the fingers of the soon to be 3 year old. Of course this has now led to her constantly wanting to see the special card, but I'm OK with that.
1992 Leaf, very soon to come.
Go Halos!