I've had many heart-warming moments as a father, but her answer to the question, "What do you want for your birthday?" is right near the top of the list. As February 19
th
approaches, there's a buzz in the air around our home. Constant questions of, "When will I be 3?" and "Am I gonna get baseball cards?" can be heard every waking moment.
Hailey's current collection is up to 17 cards and she's thinking of putting them in "books" like Daddy's cards. Her cards have been laid out and counted now about 75 times and she can give each player's first name and the team they play for. James
Loney
now plays for the "
Durgers
" and while she loves her Billy Butler card and always wants another "Billy Dada!", she can't seem to keep track of the team name Royals.
When not counting the cards, Hailey likes to show them to her doll, "Ketchup". Ketchup isn't allowed to touch the cards, because "babies can't have baseball cards, only big girls and daddies".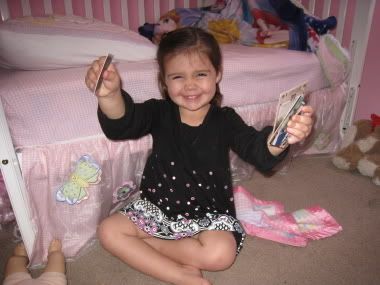 Although she's at times a bit fickle and asks about Billy a lot, her two favorite players at this point seem to be Troy and David...of the
Tulowitzki
and Wright varieties. Luckily, she's following in Daddy's footsteps for now as a die-hard Angel fan.
Jered
Weaver's card always brings about fits of excited and heightened voices as she shouts out "Angels Daddy!! Go Angels!". This April she'll finally be attending her first game and whenever we drive by Angel Stadium on way to see her grandparents she busts out and tells me all about who plays there. The downside is on the way home she spends an hour pointing at every open field and telling me that's where Angels are.
So that's where my little collector and I are as of today. Hailey's collection will most likely grow by leaps and bounds on her birthday, although I'm not sure in what direction I'll go in for her. She just helped me rip into some seriously sweet and cheap packs from the late 80's and early 90's (evidence below), so those are up next on my blogging
hitlist
, although I still have some
Bip
cards to show off and a stack of late '90s Angel cards that I'm still trying to figure out.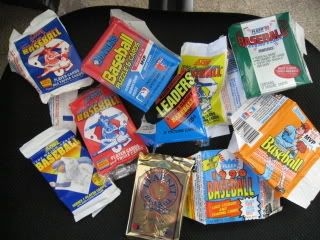 Go Halos!