In an odd run of events, I inspired
Cincinnati Reds Cards
to wonder whether or not the players in the background mattered to team or player collectors. His question in turn inspired me to want to search my own collection and discuss this topic. I have always been fascinated by what else is happening on a card. One of the first cards that popped into my mind was the 1991 Score
Kirt
Manwaring
card.
As a collector of Mark Grace cards for a number of years I knew just where to find this card of a Giants catcher...in the back pages of my binder dedicated to a Cubs First Basemen. Besides just being a very cool action shot, I loved that this card had one of my favorite players on it. It instantly lost its status as a Giants card or
Kirt
Manwaring
card and instead became a Mark Grace card.
So I decided to break out one of the storage boxes and grab a stack to see what I could find. To my surprise, I found a couple of nice examples and one jewel to add to a collection.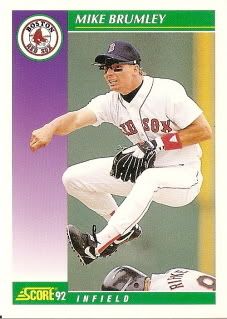 1992 Score Mike
Brumley
. Clearly these cameo cards most often show up on cards depicting an attempt at breaking up the double play. Here we have
HOFer
Cal
Ripken
Jr. sliding under the leaping
Brumley
. The vision of
Ripken
is small, but definite.
Clearly I bought too many packs of 1992 Score. Bill
Doran
just trying to save the throw into second while
Ryne
Sandberg
slides in. Another real crisp action shot, with another
HOFer
on the slide. Score was all over it in 1992.
Finally, the card that made my day.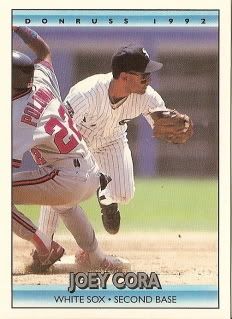 1992
Donruss
Joey Cora
Luis
Polonia
!
My main man Luis
Polonia
immortalized on yet another card. A card that I may never have known about were it not for the bantering of blogs. The Pursuit of
Polonia
continues and has just been strengthened. I love the Cameo Card!!
Go Halos!